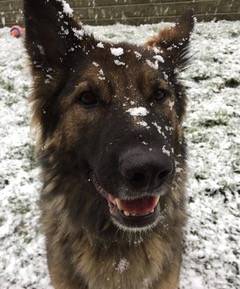 Meet Piper – Purebred Long Coat German Shepherd Dog For Adoption in Surrey, BC
[button link="https://pet-net.net/adopt-a-pet/" size="large" variation="hotpink" align="center"]Request to Meet Piper Here![/button]
There is a $150 adoption/rehoming fee. Supplies and vet records will be included.
Questions?? Text "Piper The German Shepherd" to (604) 359-1160 or email [email protected]
Piper is such an awesome dog. She is a 3 year old female purebred long coat German Shepherd. Piper is in excellent health. She has been spayed, is up to date on shots, microchipped, and house trained.
Piper was in the RCMP police dog program, but was not suitable because her personality was too submissive for the rigors of police work.
Her family love her to bits, but with the kids off to university and Mom at home with a very busy schedule, Piper is not getting the attention, playtime, exercise or care she needs and very much deserves.
Piper needs a very loving home where she will be cherished. She is best suited for a home without other dogs, and with people who are active enough to play fetch with her and help her get the activity she needs.
She is looking for a home with owners who have a large, securely fenced yard, and all the time in the world for her. Retired dog lovers who spend a lot of time at home would be perfect.
Piper is good with children. She can be a bit suspicious of adult males until she gets to know them; she is protective of her family.
If you have room in your heart and home for Piper, please reach out to us. Piper can't wait to find her forever family!
---
All About Piper – Long Coat German Shepherd For Adoption in Surrey BC
Location: Surrey, BC, V3S 0E4
Type of Pet: Dog
Breed: Purebred Long Coat German Shepherd
Age: 4
Color/Coat Type: Black and Tan Long Coat German Shepherd
Size: 75 pounds
Health Issues: no
Behavior Issues: Can be protective of her family around other dogs. She is not a "dog park" dog.
Piper is:
Spayed, Vaccinated, Healthy, Trained (By RCMP), House Trained, Crate Trained, Leash Trained.
Piper gets along with:
Small Children, Older Children, Adults
Personality
She is very sweet. She loves to be outside and play fetch. She is always very loyal
Food and Diet
Piper is currently on Other
-she usually eats raw dog food, but is fine with kibble (acana brand)
-she is fed twice a day
Reason For Rehoming
my daughters have moved away to school and there is no one at home to give her the attention and exercise she needs
How to Adopt Piper – Long Coat German Shepherd Surrey BC
If you would like to consider offering Piper a loving, forever home, please fill out our Request To Meet A Pet form here:
https://pet-net.net/adopt-a-pet/
Once received, we will contact you to discuss your request and set up a mutually convenient time to meet Piper and their owner in their home.
Questions?? Text "Piper The German Shepherd" to (604) 359-1160 or email [email protected]
Piper is a purebred long coat female German Shepherd dog for adoption in Surrey, BC near  Burnaby,
Vancouver,
Victoria,
Seattle, WA
White Rock,
New Westminster,
Pitt Meadows,
Delta,
Port Coquitlam,
Langley,
Maple Ridge,
Coquitlam,
Burnaby,
Tsawwassen,
Richmond,
Vancouver,
North Vancouver,
Lynden, WA
Ferndale, WA, and within a reasonable distance of Seattle, WA.
Contact us about this amazing purebred German Shepherd for Adoption in Surrey BC Canada today. Text "Piper The German Shepherd" to (604) 359-1160 or email [email protected]