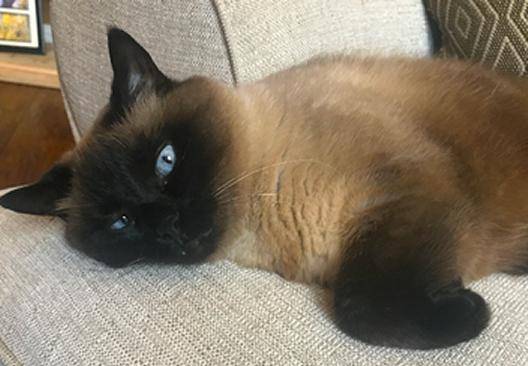 Meet Bella, Siamese Cat For Adoption in Wylie TEXAS
Bella is a stunning purebred Chocolate Point Siamese cat for adoption in Wylie, Texas, close to Dallas/Ft Worth, Plano and Garland, Texas. Bella is very sweet cat, but needs to be placed as an only pet in a quiet and very loving home to feel safe, comfortable and happy. Like many Siamese, Bella bonds closely to one person, and prefers to be their cherished companion, rather than sharing them with other cats and dogs. She wants to be the queen of the castle – your reliable bundle of cuddles and purrs.
Bella is 10 years old, very healthy, up to date on shots and impeccable in her litter habits. She is so stunningly beautiful, with a soft, sleek cream colored coat accented in luscious chocolate. Her deep blue eyes are so amazing. She is quite talkative like most Siamese, and has an infectious purr that lets you know she loves and appreciates you.
Her college student owner is so devastated to have to rehome Bella, but cats are no longer allowed in her campus dorms,  and her parents cannot take Bella because of her dislike for other cats and dogs.
If you have been thinking about adding a sweet Siamese cat to your home, here is your chance to adopt a preloved kitty. Please offer Bella a loving home today. She can't wait to melt your heart.
There is a $25 adoption/rehoming fee. Supplies and veterinary records will be included.
---
All About Bella – Siamese Cat For Adoption in Wylie TEXAS
Name of Pet: Bella
Location: Wylie, TEXAS, 75098 (near Dallas)
Type of Pet: Cat
Breed of Pet: Siamese Cat
Sex of Pet: Female
Age of Pet: 10 years
Spayed/Neutered?: Yes
Health Problems: No
Behavior Issues: No.
Up To Date on Vaccinations: Yes
Gets along with cats: No
Gets along with dogs: No
Good with Children?: No
Litter Box Trained?: Yes
Accessories Included: Pet bed, Litterbox, and any leftover food and litter that has yet to be used.
Bella's Personality
When you are asleep in the middle of the night and she wants to lay with you, she comes into the room and cries on the floor at the edge of your bed until you wake up. When she finally hears you wake up and move, then she will quickly jump on the bed and go straight to wanting to cuddle. It is like she is waiting for my permission in order for her to get on the bed and I think that is super cute
When you are sick, it is like she senses that you are under the weather and immediately goes to the rescue and wants to be by your side at all times. This is when she loves to lay fully on top of you on your lap or stomach.
I love her diva personality. She can be quite stubborn sometimes too. She will sometimes lay on a kitchen chair and if someone needs to sit down there, she will not move. You have to pick her up and lay her down at another comfy spot. I love that about her because I can be that way sometimes as well and that was a way that her and I connect.
Bella used to love playing with toys, but now her joy comes from sleeping and being pet. I love that she loves being pet because when I have a bad day, I always go to her and pet her and we would both be happy. She even lets me rub her stomach.
Bella's Current Home Environment
We live in a 2 story, 6 bedroom home. She has a lot of room to roam around. During the weekdays, no one is really home during the day due to work, but she seems to like it as she gets to sleep alone during those times.
Bella's Current Family:
I am Celeste. My brother and I are both in college and have jobs.  Bella was our first pet that we had in this house. We moved in during July 2006. We got Bella in February 2010 from my aunt who initially adopted her from Operation Kindness. She gave us Bella when she realized how allergic she is to cats. Then, in November 2010, we added Daisy to our family. Daisy is a maltese/papillon mix dog who was a rescue.
Bella's Favorite Toys, Foods, Activities?
Bella loves soft wet food. Fancy Feast is her favorite brand. Salmon flavors do not do well with her tummy, so we usually give her Chicken, Turkey, Beef or Tuna flavors. We also give her dry food as well since she likes both. She eats Purina Cat Chow Gentle.<br />
She likes to eat and sleep. Sometimes you can get her to play with a toy mouse or a string on a stick, but nowadays she will only play for a couple minutes and then walk away. She loves to nap on a windowsill between the blinds or stand there and look outside. We have a glass screen door on our front door and she loves to stand there and look at the nature outside. She loves the warmth of the sun hitting her so she usually falls asleep there too.
Cute Bella Story:
She is so cute. Every single time she finishes doing her business in the litter box, she comes out of the room and backs up against a wall and starts kicking her back paws at the wall. I think she is trying to get the litter off of her. But, then we noticed that she started doing it a lot of the time after she eats her meal. Some people say it is strange, but I think it is so cute.
Why is Bella Being Rehomed?
Over the years, Bella grew close to me. She likes everyone in the house, but she became my pet. I have been in Arlington, TX away at college and only come home to see her every other weekend. My dorm room last year did not allow any pets, and my apartment on campus this year will not allow them either.
My parents say she has been shedding more than usual lately(she always sheds more during the summer) and they do not have the time to brush her or care for her like I did when I was there. I even took her two weeks ago to get a professional bath and de-shedding treatment but it did not work. They also just got a new white couch and they did not want her hair all over it.
If I could bring her to college with me, I would in a heartbeat. I wish my parents would keep her for another year so that I can get an apartment off campus next year and could have her then, but they will not wait that long. It breaks my heart that I have to give her away, but it seems like my parents are not giving her as much of the love and care that she deserves and my only coming home a couple times a month to see her is not enough.
Bella's Perfect Adoptive Home Will Be:
I believe that the ideal family for her would be one with preferably no kids or at least children over the age of 12. This family would have no cats already in the house and preferably no dogs. If they had a dog, it would have to be a calm, small dog that will not try to chase her, jump on her, or play with her. Bella would definitely love to live in a space that has lots of room to roam around. If the family lived in an apartment, it would have to be a fairly good size. Though, I believe Bella would prefer a house to live in as she sometimes likes to go outside.
How To Adopt Bella
If you are interested in adopting this special Siamese Cat For Adoption in Wylie TEXAS, please fill out our online meeting request here. Once received and reviewed, our staff will ask the pets owner to reach out to you and arrange a meeting to determine for certain if b is a good fit for you – and you are a good fit for this pet.
If you have any questions about our careful pet rehoming process, feel free to get in touch.
Bella – Siamese Cat For Adoption in Wylie TEXAS
Bella is a Black and Beige, Short Hair Siamese Cat for adoption in Wylie TEXAS, near Dallas Ft Worth, and close to Plano and Garland. Adopt this sweet purebred Chocolate point Siamese cat today.