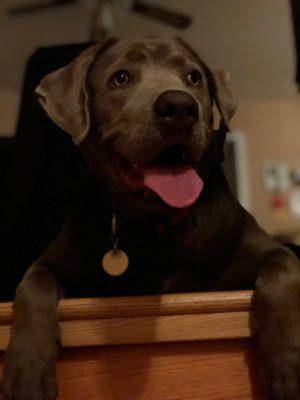 Pyper has been adopted. Thank you for your interest!
Meet Pyper – Silver English lab Dog For Adoption in Ardrossan Alberta
Pyper is a gorgeous  Silver English Labrador Retriever. At just 14 months old, she has been fixed, fully vaccinated and house broken. She is in exceptional health.
Like most Labs, Pyper is still in the "puppy phase" of her youth. She is a loveable leaping bundle of wiggly exhuberance. She is unbridled joy on 4 legs.
Pyper's owners bit off a bit more than they could chew when they adopted Pyper. With 3 small children in their home and busy work schedules, they are simply unable to give her the attention, exercise and consistent positive reinforcement she needs to mature into a more sensible version of herself.
The family is dearly hoping to find Pyper a home where her needs will be met, and she will be cherished. She needs LOTS of exercise and playtime, and someone with the ability to patiently correct her jumping and generally chaotic behaviour.
This beautiful "Diamond in the Ruff" is looking for a loving home with older kids to play with or adults who love to be active along with her. She needs owners who own their home, have a large, securely fenced back yard, and who do not have to leave her home alone all day while they work. She would be a good match for homes with another Lab or other large dog.
If you have been looking for a Lab to adopt, Pyper is looking for you. She can't wait to overwhelm you with joy and wiggle her way into your heart and home.
---
All About Pyper – Silver English Labrador Retreiver For Adoption Near Edmonton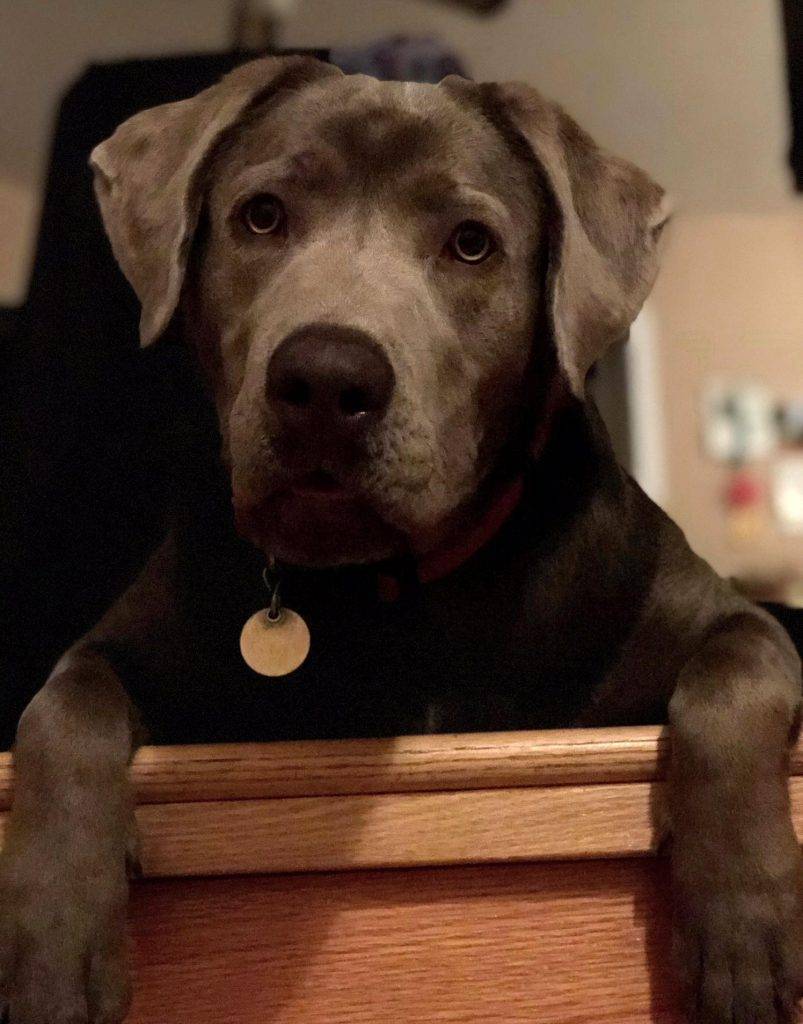 Location: Ardrossan, Alberta, T8E-2A2 (Close to Edmonton)
Type of Pet: Dog
Breed: Silver English Labrador Retriever
Age: 1yr 2 months
Color/Coat Type: Silver short hair
Size: 75-90 pounds
Health Issues: No
Behavior Issues: No. She is still very much a puppy and needs plenty of exercise, positive reinforcement and unconditional love.
Pyper is:
Spayed, Crate Trained, House Broken, Leash Trained
Pyper gets along with:
Older Children, Dogs
Personality
Loves to play fetch, has trouble listening to commands a big suck.
Food and Diet
Pyper is currently on Other
Alpo
Reason For Rehoming
dont Have the time to give the dog the attention she needs, young kids in the house and gets overly excited with them. She needs someone with the time, energy and consistency to give her the life she deserves.
Pyper is a Silver English lab Dog For Adoption in Ardrossan Alberta near Edmonton and close to Saint Albert,
Sherwood Park,
Fort Saskatchewan,
Devon,
Spruce Grove,
Morinville,
Leduc,
Bon Accord,
Stony Plain,
Calmar,
Millet,
Lamont,
Tofield,
Wetaskiwin,
Westlock, AB.