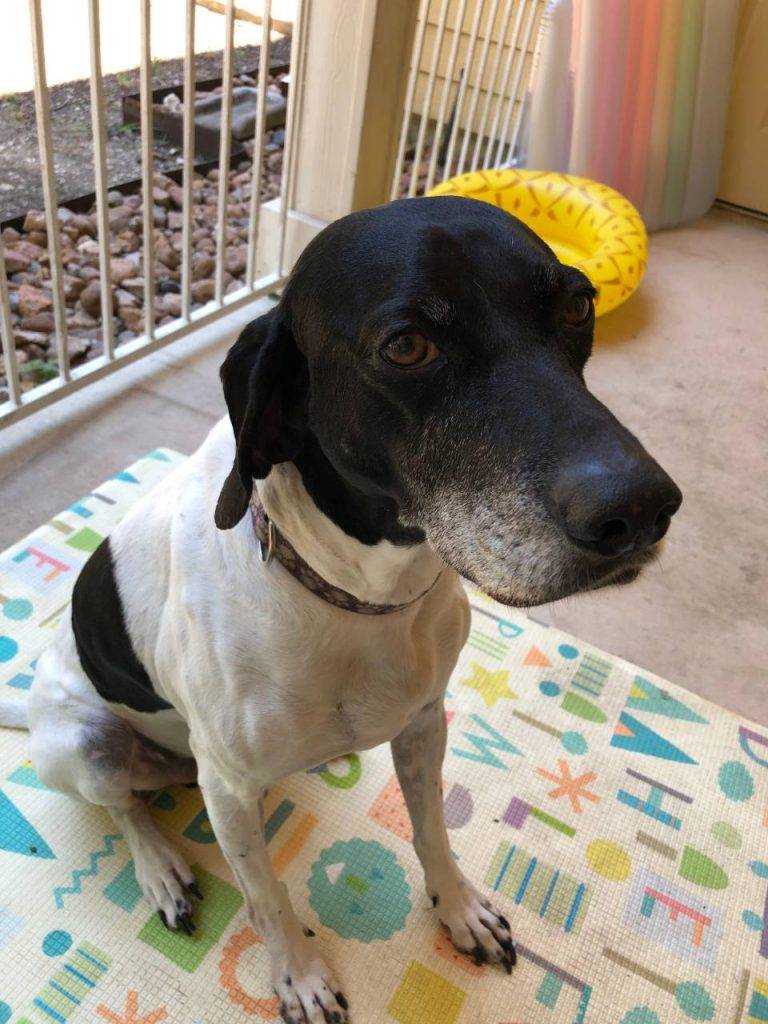 Meet Boris, German Shorthaired Pointer (GSP) Dog For Adoption in San Antonio Texas
Boris could very well be San Antonio's sweetest dog. This handsome black and white German Shorthaired Pointer dog is currently for adoption to a loving home anywhere within a reasonable distance of San Antonio, Texas.
Just 6 years old and weighing about 55 pounds, this gentle and very well behaved family companion has been neutered and is up to date on his shots. He is in great health, and has absolutely no behavior issues whatsoever. He is very well trained and has undergone obedience training. He is also crate trained and leash trained.
Boris is extremely polite. He knows not to go on furniture, jump on people, or hang around the dinner table at suppertime. You could literally put a bowtie on him and take him to a fancy dinner party – confident that he would be the most congenial guest in attendance. This dog is seriously awesome!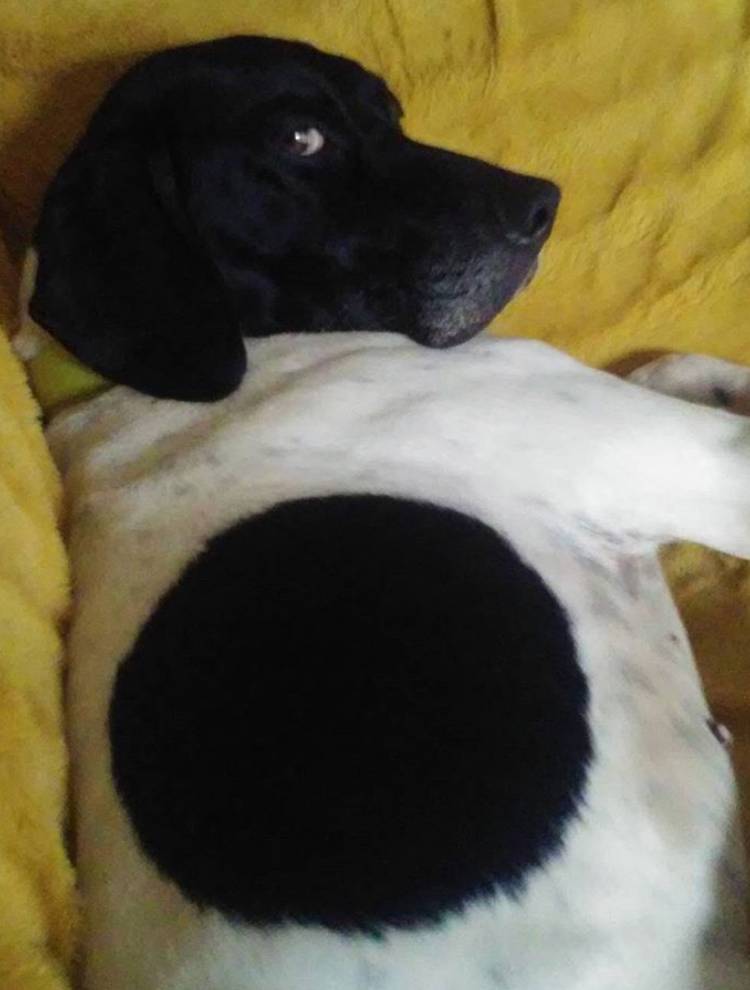 Boris gets along very well with other pets including dogs, cats, birds and small animals. He is so gentle and sweet with children of all ages and sizes, and very welcoming of strangers and friends alike.
Boris loves to be outdoors, and really enjoys long walks in the park or a visit to the dog park for a romp with doggie friends. He also loves just being with his family. He is a cuddler and very devoted and affectionate.
Boris's family are heartbroken to have to place him for adoption. They want Boris to have a better life, and since they are currently living in a small apartment with a small child and a baby on the way – and with Dad having to work extremely long hours – Boris, unfortunately, gets very little of the time, attention and exercise that he needs and very much deserves.
The family are hoping to find Boris his dream home. He would fit in well into almost any home, but they are dearly hoping to find dog owners who will cherish Boris and provide him with a back yard, and lots of love, companionship and attention. They want him to be his new owner's focus. It will be very difficult to say Goodbye to Boris, but knowing that he will be having a much better life in his new home will make the decision easier for them.
If you have been looking for the perfect dog to complete your family, please consider offering Boris his forever home. This is one very special dog that is sure to leave paw prints on your heart. Adopt Boris today!
There is a $100 adoption/rehoming fee. Supplies and veterinary records will be included.
Questions about Boris? Contact our San Antonio Dog rehoming team today.
Text "Boris" to (888) 833-2128 or email [email protected]g-lover.us. We look forward to hearing from you.
---
All About Boris – German ShortHaired Pointer Dog For Adoption in San Antonio Texas
♥ Name of Pet: Boris
♥ Location: San Antonio, Tx, 78258
♥ Type of Pet: Dog
♥ Breed of Pet: German ShortHaired Pointer
♥ Color / Coat Type: Short . All white with black head and black spot
♥ Age of Pet: About 6 to 7
♥ Size of Pet: 55 lbs
♥ Health Problems: No
♥ Behavior Issues: No
♥ Gets along with: Babies, Toddlers, Small Children, Older Children, Dogs, Cats, Small Animals, Pet Birds, Horses, Strangers
♥ Pet is: Neutered, Microchipped, Crate Trained, House Broken, Leash Trained, Obedience Trained
♥ Food: Blue Buffalo
He eats a lot of high quality brands we like to switch it up cause he gets bored. He likes it mix with canned food he also eats fresh pet and people food.
Boris's Personality
He is literally the sweetest dog you will ever meet. I have a bunch of cute photos of him with my toddler. He is calm, quiet and gentle wouldn't hurt absolutely anyone or anything. He doesn't bark at all. Only if he is really excited at a dog park. He is well mannered he will not go on your furniture if not allowed to and will not jump on people. He also will not sit by your table and beg for food with a snap of your fingers he will just go to his bed.His absolute favorite thing is to be outdoors. He must go to someone with a yard.
We are just so sad to have to make this decision we just would love to have a peace of mind knowing he will go to someone who will love him forever. His previous owner abused him so he gets scared of loud noises or if someone raises a hand by him. He has gotten much more confident that he will no longer be abused by being with us. He truly is the sweetest dog we have ever met we just want what's best for him. He needs to be with someone / family who will have time for him.
Why is Boris Being Rehomed?
I adopted Boris from a shelter in the 2016. At the time we were in an apartment like we are now and we're planning to buy a house ASAP. That never happened. Boris loves to be outside and We have a tiny apartment with a child and another on the way. My husband works all the time and I am really busy as well and don't have time to constantly take him to a dog park. He needs a yard. He also absolutely loves other dogs that would be a huge bonus if he went to a home with an existing dog/dogs.
Boris's Perfect Adoptive Home Will Be:
---
How To Adopt Boris
If you are interested in adopting this special German Shorthaired Pointer (GSP) For Adoption in San Antonio Tx, please fill out our online meeting request below. Once received and reviewed, our staff will ask the pets owner to reach out to you and arrange a meeting.
There is a $100 adoption/rehoming fee. Some supplies and veterinary records will be included.
Questions about Boris? Contact our German ShortHaired Pointer Dog rehoming team today. Text "Boris" to (888) 833-2128 or email [email protected] We look forward to hearing from you.
---
Boris – German Shorthaired Pointer (GSP) Dog For Adoption in San Antonio Tx
Boris is a German Shorthaired Pointer (GSP) Dog for rehoming in San Antonio, TX. He is located near the following towns and cities in Texas:
Kirby TX,
Leon Valley TX,
Converse TX,
Live Oak TX,
Universal City TX,
Schertz TX,
New Braunfels TX,
Pleasanton TX,
Seguin TX,
Canyon Lake TX,
Hondo TX,
San Marcos TX,
Kyle TX,
Kerrville TX,
Lockhart TX,
Adopt this German Shorthaired Pointer (GSP) Dog in San Antonio TX today.