Taz and Peanut have been adopted.
Meet Taz and Peanut – Chihuahua Jack Russell Terrier Mix Dogs For Adoption in San Jose CA
Taz and Peanut are a very sweet bonded pair of Jack Russell Terrier / Chihuahua mix dogs for adoption in San Jose CA. They are both very quiet and well behaved. Weighing 20 pounds, they have been fixed, are healthy and up to date on their shots. They are both 7 years old and have been together since they were puppies. Their owners love them so much,  and are dearly hoping to keep them together.
Taz and peanut will be rehomed with all supplies and veterinary records. Please offer these cute little dogs a loving home today.
---
All About Taz and Peanut – Jack Russell Terrier and Chihuahua Mix Dogs For Adoption in San Jose CA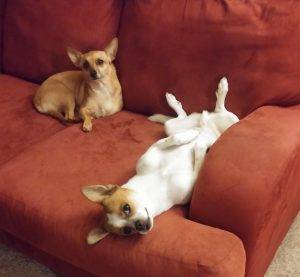 Name of Pet: Taz and Peanut
Location: San Jose, CA, 95128
Type of Pet: Dog
Breed of Pet: Jack Russell Terrier / Chihuahua Mix
Sex of Pet: Male
Age of Pet: 7 and a half years old
Spayed/Neutered?: Yes
Health Problems: No
Up To Date on Vaccinations: Yes
Gets along with cats: Yes
Gets along with dogs: Yes
Good with Children?: Yes
House Broken or Litter Trained?: Yes
Crate Trained?: No
Accessories Included: Bed, toys, carriers, bowls, flea medicine
Taz and Peanut's Personality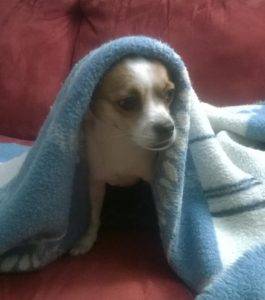 1) He's very smart. I will elaborate below.
2) He's very submissive. Taz does anything you ask him to. If he's lying down all comfortable and you want to play or have him do tricks he'll get up and listen. When you tell him to stay he listens and he's just a wonderful dog.
3) He's very gentle: When we got Peanut (our other dog) after him and she was a puppy he used to play around with Peanut and chase after each other. Peanut would be playing rough and he would be extremely gentle with her. He would look like he's biting her when playing but he's not pressing down hard at all.
4) He's very protective: When anyone is playing rough around him he will get all hyper and start barking trying to protect the people who are playing around. If he hears anyone trying to come in he sounds the alarm and starts barking and makes sure we're aware of whatever is going on.
5) He's very chill: My wife and I have a busy lifestyle so when we need to get work or things done around the house he just lays around and doesn't bother anyone. There are exceptions like when he wants something from Peanut or he is just very hyper and wants to play but otherwise he keeps to himself.
Taz and Peanut's Current Home Environment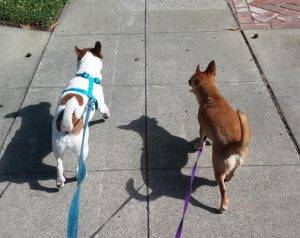 We have lived in apartments all of their life. Right now we keep her mainly in the living room and when we visit my mother-in-law they have a yard so they can run around and play with each other.
Taz and Peanut's Current Family:
Our family is made of my wife and I and the dogs. My wife and I are both full-time college students (my wife graduates this June, God willing). We are usually out of the house Mon-Fri from 8-6 during school sessions. I work as a research fellow for one of the professors at my school and my wife currently works in a lab at school and at Fed-Ex Office. We visit with my mother-in-law frequently so Taz and Peanut are very close to her and my little sister-in-law they love them immensely.
Taz and Peanut's Favorite Toys, Foods, Activities?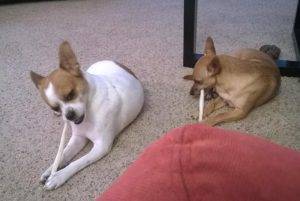 He loves his stuffed animals. He has a brown bear we refer to as "browny" and he used to have a scooby doo toy but he likes to open up the stuff animals and take out the fuzz. He loves bones and treats, he chews on his bones daily. We feed him regular dry dog food. He loves going to the park and running around. He loves going to the beach and digging in the sand or going in the water. He loves going to my mother-in-law's house and just sitting on her lap.
Cute Taz and Peanut Story:
I mentioned that Taz is extremely smart earlier. He is so smart that he knows Peanut's weaknesses and personality and will take advantage of it to get what he wants. Peanut is very needy and whenever Taz is getting pet or given attention Peanut has to put herself in the middle of it. When Peanut has something that Taz wants like a bone or she's sitting on his bed he will come up to either my wife or I and he tries to get our attention. He'll sit right in front of us, staring letting us know he wants us to play with him. All the while he's looking at Peanut to see if he's gotten her attention.
If we ignore him he will start making noises or even bark to try and get us to play with him. Once we play with him Peanut will notice and she'll come over trying to get all the attention. The moment she leaves her post he will rush and chew on the bone he wants or lay in the spot he wanted. He's fooled us many times thinking that he wants to actually play but what he really wants is the bone.
Why are Taz and Peanut Being Rehomed?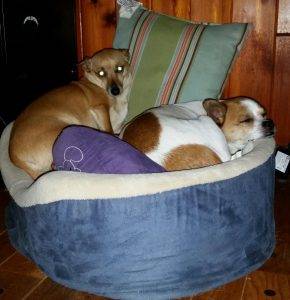 I became Muslim in 2012 and in Islam we emphasize cleanliness to a great length. Dogs by nature aren't clean animals, they shed a lot, they bring in all the dirt from outside, etc. It would be best for everyone for Taz and Peanut to be in a new home where they can go anywhere they want (they're only allowed in the living room because we want to keep our eating and pray space clean). We are also very busy and Taz and Peanut don't get the attention they deserve. We are gone from the house sometimes 12 hours of the day.
That's part of the reason we got Peanut so Taz wouldn't have to be alone all the time. Ultimately due to a change in lifestyle we need to find Taz and Peanut a new home. We are definitely not rehoming Taz and Peanut for anything wrong with them or anything they've done. Their the best dogs I've ever had hands down and this decision is a really difficult one.
Taz and Peanut's Perfect Adoptive Home Will Be:
We are looking for a family that will give Taz and Peanut the attention, love, and space they deserve. A family that is active and with children that have a big yard he can run around in would be ideal. Taz and Peanut are amazing companions and they deserves to live life more and not be cooped up in the house all the time.
Additional Comments:
We will only consider homes that will adopt Taz and Peanut together. Taz has been with peanut since he was a year old and Peanut doesn't know life without Taz. We will not separate them under any conditions.
One final thing is that my wife and I will be leaving for Copenhagen in July for work, God willing. I know that there's not much you can do to speed up the process but I wanted to let you know about that.
Taz and Peanut are a bonded pair of Chihuahua Jack Russell Terrier mix dogs for adoption in San Jose CA near Fremont
Oakland
San Francisco
Modesto
Stockton
Sacramento
Santa Clara
Campbell
East Foothills
Milpitas
Cupertino
Sunnyvale
Saratoga
Los Gatos
Mountain View
Los Altos
Los Altos Hills
Fremont
Palo Alto
Newark
Stanford
College Park
Chinatown
Heinlenville
Garden City Trailer Court
Trailer Tel Mobile Home Park
Willow Glen
Riverbend Family Mobile Home Park
Parkmoor
Golden Wheeler Mobile Home Park
Fruitdale
Wayne
Santa Clara
Winchester Ranch Mobile Home Park
Berryessa
Santa Clara Trailer Village
Casa de Lago Mobile Home Estates
Alum Rock CA California. Adopt this delightful pair of JRT Chihuahua mix dogs today.