Rocky Has Been Rehomed!
They took Rocky home with them tonight! I am very happy with this placement! I could not have found a better home for Rocky!
Thank you so much!
Vanessa
---
Here is how our Savannah dog rehoming team presented Rocky to locate his new home: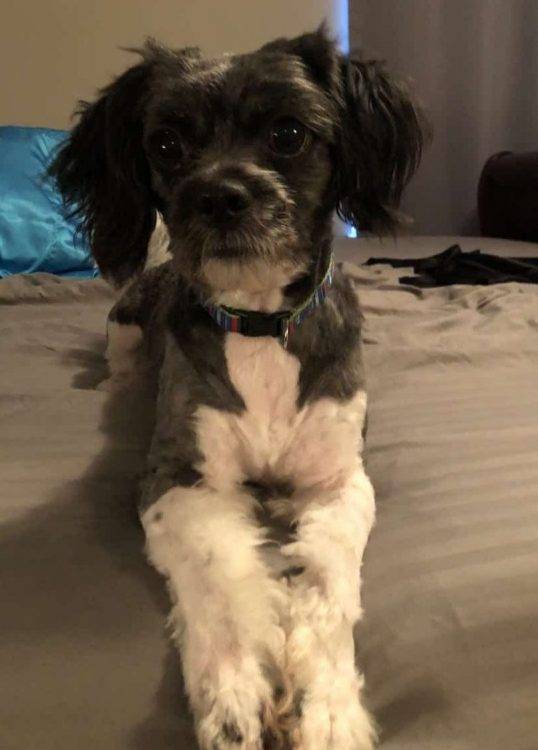 Meet Rocky, Shih Tzu Mix Dog Rehomed in Savannah GA
Looking for a cute small dog Rehomed in or near Savannah? Rocky is a Black and White, long hair Male Shih Tzu Mix Dog Rehomed to a very loving home in or near Savannah GA. This very special Dog is 2 and weighs 14 pounds. Rocky is healthy, fixed and up to date on shots. He is crate trained and gets along well with other dogs and respectful children.
Rocky will need some help learning the ropes when it comes to house training. He is a smart little cookie and loves to please his people, so someone with the time to devote to teaching him should have no problems.
Rocky is being rehomed by his owner, who is very sad to have to make this difficult decision. She is working very long hours and has very little time left to spend with Rocky. Out of concern for his happiness and well-being, she is dearly hoping to find him the best home ever – a home with dog lovers with lots of time to devote to him. Rocky is a LOVE DOG, and thrives on cuddles and kisses.
If you have room in your heart and home to adopt this sweet little Shih-Tzu mix dog in Savannah, please offer Rocky the home he needs and deserves today.
Need to Rehome A Dog in Savannah GA?
Contact our Savannah dog rehoming team. Text "Savannah Dog Rehoming" to (888) 833-2128 or email mailto:[email protected]. We look forward to being of help.
---
All About Rocky – Shih-Tzu Mix Dog Rehomed in Savannah GA
Name of Pet: Rocky
Location: Savannah, GA 31419
Type of Pet: Dog
Breed of Pet: Shih Tzu Mix Dog
Sex of Pet: Male
Age of Pet: 2
Spayed/Neutered?: Yes
Health Problems: No
Behavior Issues: Yes Jumping when he is excited
Up To Date on Vaccinations: Yes
Gets along with cats: Unknown
Gets along with dogs: Yes
Good with Children?: Yes
House Broken or Litter Trained?: No
Crate Trained?: Yes
Accessories Included: A crate, blanket, food and water bowl, toys and leash.
Rocky's Personality
He gives high fives on command
He is always happy to see people
He is very outgoing
He loves everyone
Rocky's Current Home Environment
One other ShihTzu who is much older and does not have the energy to play anymore.
Rocky's Current Family:
I am a single working mom/collage student. My two teenage children are with me every other weekend.
Rocky's Favorite Toys, Foods, Activities?
He loves tennis balls and loves to go for walks and cuddle on the couch.
Cute Rocky Story:
He will throw tennis balls down the stairs with his nose and chase them, bring them back up and do it again.
Why is Rocky Being Rehomed?
I feel he would be happier with a family that had more energy and time to spend with him.
Rocky's Perfect Adoptive Home Will Be:
A loving home with patience and time to give to him.
Additional Comments:
How To Adopt Rocky – Shih Tzu Mix Dog For Private Adoption in Georgia
If you are interested in adopting this special Shih-Tzu Mix Dog Rehomed in Savannah GA, please fill out our online meeting request here. Once received and reviewed, our staff will ask the pets owner to reach out to you and arrange a meeting.
Need to Rehome Your Shih Tzu?
Contact our Shih Tzu dog rehoming team. Text "Shih Tzu Rehoming" to (888) 833-2128 or email [email protected]. We look forward to hearing from you.
Rocky – Shih-Tzu Mix Dog Rehomed in Savannah GA
Rocky is a Black and White, long hair Shih-Tzu Mix Dog Rehomed in Savannah GA , near the following towns and cities in GA  and SC:
Garden City
Pooler
Wilmington Island
Richmond Hill
Rincon
Hilton Head Island, SC
Fort Stewart
Hinesville
Beaufort, SC
Statesboro
Jesup
Saint Simons
Brunswick
Summerville, SC
Robert M Hitch Village
Clearview
Spauldings Settlement
Carver Village
Florida Junction
Hugers Settlement, SC
General Hamiltons Settlement, SC
Alabama Junction
Ogeecheeton
LePageville
Pine Gardens
Telfair Junction
Tremont Park
Savannah Gardens
Union Junction
Gordonston
Rossignol Hill
Ladson, SC