Looking for a Scottish Fold cat for adoption? Located in Stow, Ohio, Chase is an Orange and White Male Scottish Fold Cat looking for a loving home. He is 6 years old  and weighs 10 lbs. Chase has been neutered and is up to date on shots. He is healthy and has no behavior problems. He is clean, litter trained and a very friendly cat. Chase is good with respectful children and gets along well with other cats. He has no experience around dogs.
Chase is hoping to find a home with his best friend,  Belle, a stunning Ragdoll cat.

This pair of furry angels are in excellent health. They have been spayed and neutered, are up to date on shots, and are clean, well behaved and incredibly affectionate cats. They get along with respectful children and other cats. They would likely be accepting of cat-friendly dogs, as well.
Tragedy struck Belle and Chase's family in the past year. Their owner, a young mother with an infant child, passed away from Cancer. Her husband has been left on his own to care for their child, and as much as he loves the cats, he simply cannot give them the time, attention and cuddles they demand. He is dearly hoping to find them the perfect home where someone will cherish them as much as his wife did. (They were her first babies).
Pet Adoptions Network is seeking a very special home for these extremely gorgeous and affectionate cats. This delicate rehoming situation calls for someone who is very tactful and thoughtful, and who will help make the cats' transition into their new home as stress-free as possible, both for the cats, and for their owner. We are accepting applications from cat lovers anywhere within a reasonable distance of Stow, Ohio. (You will be expected to drive to the owner's home to meet him and take the cats home with you.)

If you would like to adopt Belle and Chase, please complete our meeting request form via the link below. There is a screening process that we follow, so it is best to provide as much information as possible, and also to send us some photos of your home where the cats will be living. These will be used solely for the purpose of screening, and will not be displayed or used by anyone other than our rehoming coordinator.
There is a $300 adoption/rehoming fee. Supplies and veterinary records will be included.
Questions about Belle and Chase? Contact our Stow Cat rehoming team today.
Text "BelleChase" to (888) 833-2128 or email  BelleChase@Cat-lover.us.
We look forward to hearing from you.
---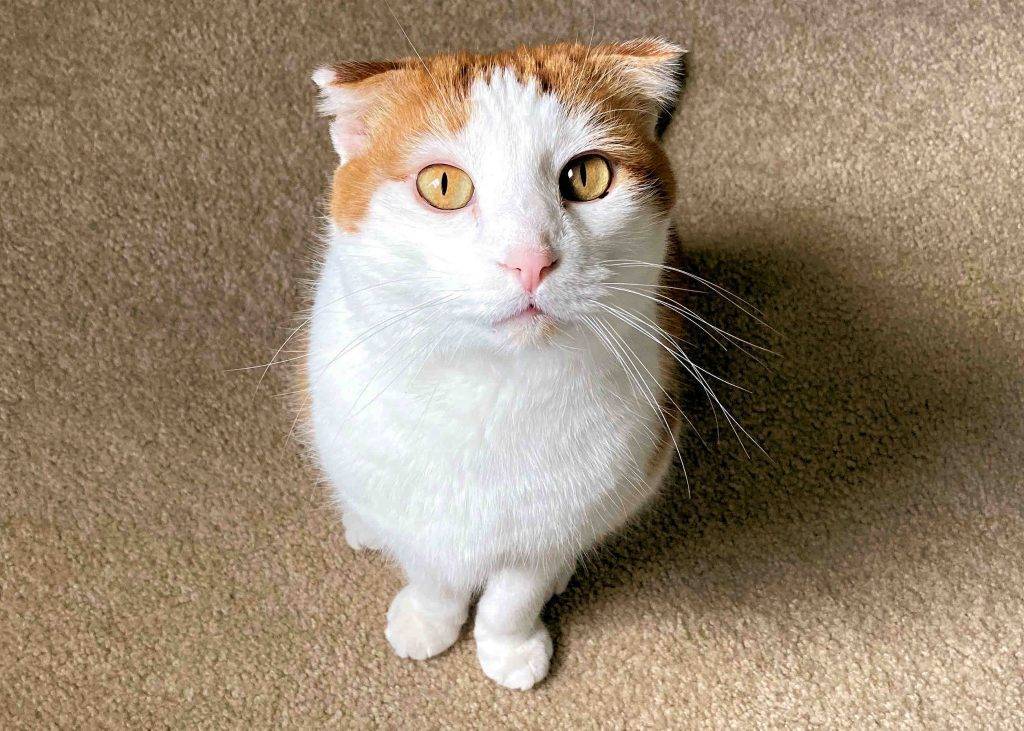 All About Chase
Name of Pet: Chase
Location: Stow Ohio 44262
Type of Pet: Cat
Breed of Pet: Scottish Fold
Sex of Pet: Male
Age of Pet: 6
Spayed/Neutered?: Yes
Health Problems: No
Up To Date on Vaccinations: Yes
Gets along with cats: Yes
Gets along with dogs: Unknown
Accessories Included: SmartCat Ultimate-Scratching-Post, PetFusion Scratcher Cardboard, Bergan Turbo Scratcher, Felt on a pole, Feather on a pole, Food, Food bowl, Chom Chom hair groomer, Nail Clippers, Kong Kickeroo, brush
Chase's Personality
Chase enjoys being near those he is bonded to and will follow you around and relax nearby. He likes neck scratches and lower back scratches. If you sit down he'll bump your foot or leg with his head. He likes to high five into neck scratch.
Chase is a well behaved cat. He does need scratching posts at prominent locations so he can stretch and scratch. He likes to play with a felt string or a bird on a string to let his energy out. If you stay in a room with a door closed, he'll try to get to you so you will need a floor protector or just let him in and prepare for head bumps.
He doesn't like being picked up. He enjoys being professionally groomed. A more skilled home groomer than the current owner will probably not have any issues, but the current owner requires two people to cut his nails at home.
He does great with babies and does fine with other cats. He's untested with dogs and may have a fear of them. He does fine with toddlers as long as they don't hit him or back him into a corner, in which case he'll hiss. He keeps his distance from older kids.
Chase's Current Home Environment
Calm, 2200 sq foot home with plenty of space for Chase to roam.
Chase's Current Family:
Me and my 1 year old son.
Why is Chase Being Rehomed?
My wife died in December and I'm raising my on year old son on my own and the cats are a distraction from him and stressor on my life.
Chase's Perfect Adoptive Home Will Be:
Preferably a home that provides the same level of care that I do but has the time and desire to spend time with Chase, he needs someone to scratch his head and play with him.