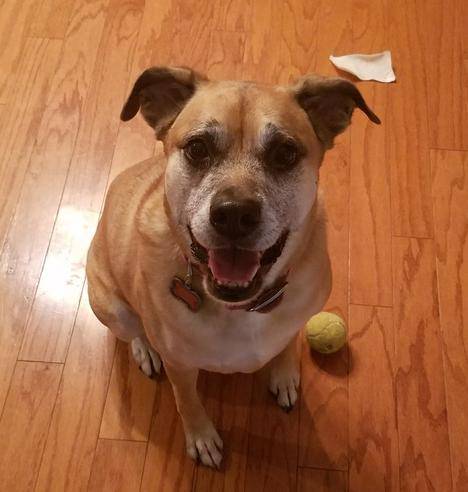 Meet Vida – German Shepherd Lab mix dog For Adoption in Mableton Georgia
There is a $75 adoption/rehoming fee. Supplies and vet records will be included.
Questions About Vida? Text "Vida" to (888) 833-2128 or email AdoptVida@dog-lover.us
Looking for the perfect family dog to adopt in the Atlanta area? Vida is looking for you! This awesome 6 year old female Yellow Labrador Retreiver mix is such a sweetheart. She is gentle and sweet with children of all sizes, and great with other dogs. She is a 60 pound bundle of love and devotion.
Vida is a very healthy dog. She has been spayed, fully vaccinated and microchipped, and has her vet records to attest to her exceptional health. Vida is exceptionally well behaved, too. She is crate trained, house broken and leash trained. She has also received obedience training.
Vida's owner loves her so much, and is heartbroken to have to find her a new home. Unfortunately she has developed very severe dog allergies, and just touching Vida makes her break out in hives. Such a difficult situation for a dog as affectionate as Vida.
Vida's owner is hoping to find her a loving, forever home where she will be cherished and kept safe, happy and healthy. She would love to stay in touch, but only if Vida's new owners are OK with it.
Vida is so well behaved and adaptable that she would fit in well in so many situations. Her perfect home would be with dog owners who have plenty of time to give her the affection, attention, playtime and exercise she needs and very much deserves. A fenced back yard to play in would be ideal.
If you have room in your heart and home for this very sweet Lab mix, please fill out our online meeting request form. Vida can't wait to meet you.
Questions About Vida? Text "Vida" to (888) 833-2128 or email AdoptVida@dog-lover.us
---
All About Vida – Awesome German Shepherd Yellow Lab Mix Dog For Adoption Atlanta GA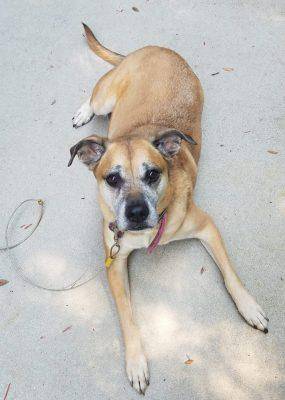 Location: Mableton, Georgia, 30126
Type of Pet: Dog
Breed: German Shepherd/Labrador mix
Age: 6 years old
Color/Coat Type: Blonde/Short hair
Size: 60 lbs
Health Issues: No
Behavior Issues: No
Vida is:
Spayed, Microchipped, Fully vaccinated, Crate Trained, House Broken, Leash Trained, Obedience Trained
Vida gets along with:
Babies, Toddlers, Small Children, Older Children, Dogs, Strangers
Personality
Very sweet and loving, extremely submissive. She gets nervous around new people but warms up very quickly. She loves to have someone pet her, and enjoys walks and playing fetch.
Food and Diet
Vida is currently on Other
Rachael Ray, but she will eat any brand that is not bland.
Reason For Rehoming
My allergies have been getting worse and they are now to the point that if I touch Vida my eyes itch and swell, and I break out in to a rash from the contact.
---
How to Adopt Vida – Lab German Shepherd Mix Dog Near Atlanta GA
If you would like to consider offering Vida a loving, forever home, please fill out our Request To Meet A Pet form here:
https://pet-net.net/adopt-a-pet/
Once received, we will contact you to discuss your request and set up a mutually convenient time to meet Vida and their owner in their home.
Questions About Vida? Text "Vida" to (888) 833-2128 or email AdoptVida@dog-lover.us
---
Vida is a German Shepherd Lab mix dog For Adoption in Mableton Georgia near Atlanta and close to
Austell,
Lithia Springs,
Smyrna,
Powder Springs,
Marietta,
Douglasville,
Atlanta,
East Point,
College Park,
Sandy Springs,
Kennesaw,
Druid Hills,
North Atlanta,
North Druid Hills,
North Decatur,
Dunn Hill,
Lakeside,
La Bama,
Boulder Vista,
Mount Pisgah Estates,
James Acres,
Leland,
Pisgah Forest,
Gordon Acres,
Ford Heights,
Greenbrook,
Gardner Woods,
Kennedy,
Ellison Estates,
Brenda View,
Pine Creek and
Gordon Heights, Georgia.
Adopt Vida the Yellow Labrador Retriever mix near Atlanta today.