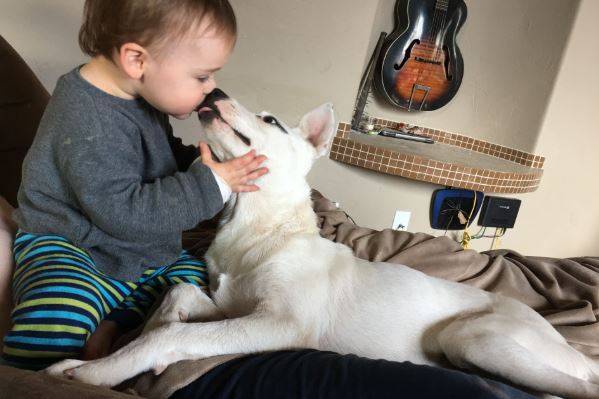 White German Shepherd Mix Dog For Private Adoption in Albuquerque New Mexico – Meet Puppy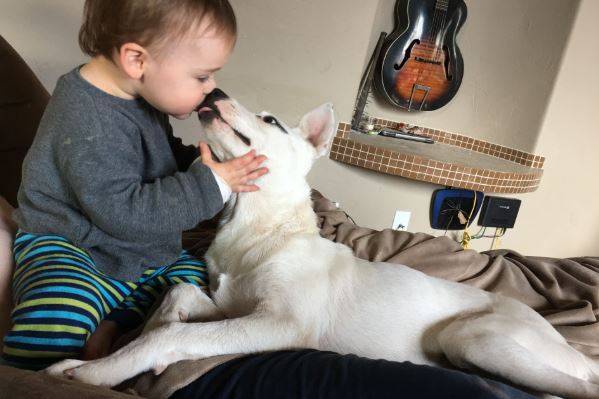 Puppy is a White German Shepherd mix dog for private adoption in Albuquerque NM. Puppy is 3 years old and weighs about 45 pounds. Puppy is very healthy. He is neutered and up to date on shots.
Puppy has an amazing personality. He is a lover, and very good with children. He gets along very well with other dogs, and is playful, eager to please and well behaved.
Puppy is looking for a forever home anywhere within a reasonable distance of Albuquerque. While he can be adopted on his own, he would prefer to be placed as one of a bonded pair, along with his best friend, Diamond.
The dogs are looking for a new home where they will be cherished and kept safe, happy and healthy. They need a securely fenced yard to play in, and owners who have the time and resources to take care of their needs for the rest of their lives. These are very special dogs that deserve a really good home.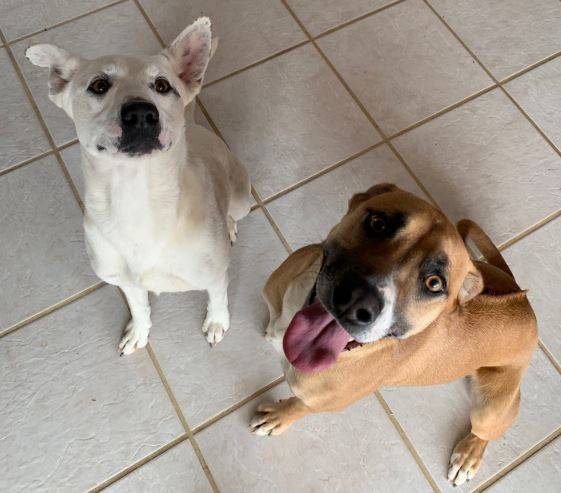 Puppy can be adopted on his own, but how can you resist also adopting his best friend, Diamond, a dog with a million watt smile (and a personality to match).
If you have room in your heart and home for Puppy – or Puppy and Diamond – please contact us today.
There is a $100 adoption fee to adopt Puppy (or $150 to adopt both dogs together). All supplies and vet records will be included.
Questions about adopting this sweet White German Shepherd mix dog? Contact our Albuquerque pet rehoming team today. Call or text us at (888) 720-3322 or email [email protected] We look forward to hearing from you.
---
All About Puppy – White German Shepherd Mix Dog For Private Adoption in Albuquerque New Mexico
Name of Pet: Puppy
Location: Albuquerque, NM
Type of Pet: Dog
Breed of Pet: White German Shepherd mix
Sex of Pet: Male
Age of Pet: 3 years
Spayed/Neutered?: Yes
Health Problems: No
Up To Date on Vaccinations: Yes
Gets along with cats: Unknown
Gets along with dogs: Yes
Accessories Included: We have an extra large kennel that the two share because they didn't do well in their separate kennels
Puppy's Personality
Very loving, active, very playful with dogs and people, very mature for his age, listens well.
Puppy's Current Home Environment
2 very active toddlers, big yard, sleeps inside and is kennel trained, loving family
Puppy's Current Family:
My wife and I work a lot and have our two toddlers the dogs love playing with the kids in our yard a lot we try to do lots with them out side
Puppy's Favorite Toys, Foods, Activities?
Loves to play fight with our other dog and run a lot when outside but calms down quickly once inside he loves pretty much any treats and toys
Cute Puppy Story:
He always lays on the couch and "watches" tv with our kids and loves to cuddle
Why is Puppy Being Rehomed?
We are currently have to down size our home significantly because we can't afford where we are living because of my job and we won't have a yard or the necessary means to give them the best life possible
Puppy's Perfect Adoptive Home Will Be:
A family that hopefully has children and a decent size yard they are very active pets so we would like someone who doesn't mind sending time with them and let's then enjoy time indoors as well as outdoors (they prefer being outside most of the time anyways)
Additional Comments:
We would prefer diamond and puppy (my son named him when he was a baby) to go to the same home if possible but may look into seperate homimg if we can't find a together home for the two.

Apply to Adopt Puppy -White German Shepherd Mix Dog in Albuquerque New Mexico
PAY ADOPTION PROCESSING FEES
White German Shepherd Mix Dog For Adoption in Albuquerque NM
Puppy is a White German Shepherd mix dog for adoption in Albuquerque, near the following towns and cities in New Mexico:
South Valley NM,
Los Ranchos de Albuquerque NM,
North Valley NM,
Rio Rancho NM,
Corrales NM,
Bernalillo NM,
Los Lunas NM,
Belen NM,
Santa Fe NM,
Los Alamos NM,
Grants NM,
Espanola NM,
Socorro NM,
Las Vegas NM,
Taos NM,
Martinez Town NM,
Barelas NM,
Old Town NM,
Five Points NM,
San Jose NM,
Atrisco NM,
Los Duranes NM,
Kirtland Addition NM,
Armijo NM,
Los Candelarias NM,
Hahn NM,
Arenal NM,
Los Griegos NM,
Lee Acres NM,
Vista Encantada NM,
Kinney NM,
South Valley NM.
Contact us for more information about adopting this special White German Shepherd mix dog in Albuquerque today.