Austin TX – Handsome Dutch Shepherd For Adoption To Loving Home With Supplies – Adopt Ojoe Today!
Looking for a Dutch Shepherd for adoption in Austin Texas? Ojoe is an absolutely gorgeous dog. He is a purebred Dutch Shepherd, aged 3. Ojoe is fixed, up to date on shots and very healthy. He has one brown and one blue eye – a really striking appearance. He is looking for a loving home with people who have lots of time to spend with him. He is good with respectful children and other dogs. Please offer Ojoe a loving home today.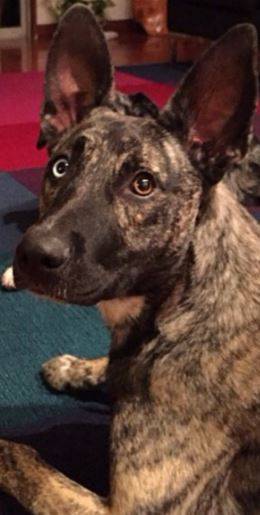 Hi, My name is Ojoe!
There is a $75 adoption/rehoming fee. All supplies will be included.
---
Location: Austin, Texas, 78757
Type of Pet: Dog
Breed: Dutch Sheppard
Age: 2.5 – 3
Color/Coat Type: Brindle
Size: 65lbs
Health Issues: No
Behavior Issues: Yes
Ojoe is:
Neutered, Microchipped, Fully vaccinated, House Broken, Leash Trained
Ojoe gets along with:
Small Children, Older Children, Adults Only, Dogs, Strangers
Personality
Ojoe is very sweet and loves people. He's a big lovable goof and only wants to please. He'll follow you around like a shadow and loves to play outside – whether it's fetch or going for a jog. He's been very good with other dogs and just wants to play! He's also very affectionate and loves to snuggle in bed at night.
Food and Diet
Ojoe is currently on Other
I'm blanking on the name of the product, but it's a grain free dog food that we buy at HEB. The package is slightly metallic.
Reason For Rehoming
We love Ojoe dearly, but have a small child in the house and another dog. Our other dog nipped our child and so we needed to find her a new home. We think it would be best to also find him someone who can spend more time with him and give him the exercise and attention he needs.
How to Adopt Ojoe
Austin Pet Rehoming Service – Dutch Shepherd Rehoming