Karelian Bear Dog Border Collie Mix For Adoption in Nashville TN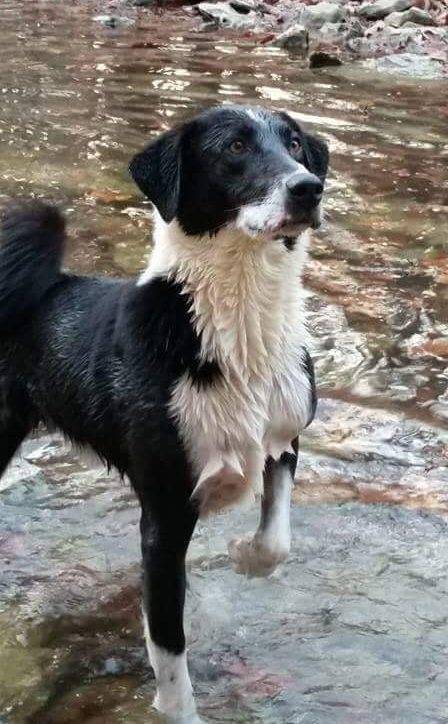 Meet Sly, Karelian Bear Dog Border Collie For Adoption in Nashville TN
Looking for a Border Collie mix for adoption in Nashville? Sly is looking for a very good home. This special dog is a unique mix of BC and Karelian Bear Dog. He is 6 years old, healthy, neutered and up to date on his shots. Sly is looking for an adults only home in the country.
Request to Adopt Sly Here
There is a $100 adoption/rehoming fee. Supplies and veterinary records will be included.
All About Sly – Karelian Bear Dog Border Collie Mix Dog For Adoption in Nashville TN
♥
Name of Pet:
Sly
♥
Location:
Nashville, TN, 37217
♥
Type of Pet:
Dog
♥
Breed of Pet:
Karelian Bear Dog Border Collie mix
♥
Color / Coat Type:
70% black 30% white, smooth, corse short hair with fine under coat
♥
Age of Pet:
6
♥
Size of Pet:
Approximately 60 lbs
♥
Health Problems:
None to my knowledge
♥
Behavior Issues
:  Wary of other dogs.
♥
Gets along with:
Toddlers, Small Children, Older Children
♥
Pet is:
Neutered, Fully vaccinated, Crate Trained, House Broken, Leash Trained
♥
Food:
  Kroger band Luvsome dry and Authority canned
---
There is a $100 adoption/rehoming fee. Some supplies and veterinary records will be included.
Questions about Sly?? Text "Sly" to (888) 833-2128 or email Sly@dog-lover.us
Sly's Personality
Sly is really a good dog, loving and affectionate to me and my family members, he is well behaved while in a known environment. Is not destructive only to his toy balls, obedient when not in his fear mode, sit, stay, down.. seems food orientated at times, will linger around dinning table and snatch food from my grandson.
Was craate trained however I didn't feel the need to it so now he really doesn't like it., big mistake on my part. Sleeps through the night, has regular bowel habits, and is house trained. Loves the water, and to chase a ball..he will almost bring to back to me…and will allow me to take any of his toys as well as any undesirable food he finds while walking.
My decision to rehome Sly has been a difficult one, I do not take pet ownership lightly. However as I stated above I feel Sly needs the opportunity to be the best he is capable of being, with the right owner, proper training and exercise in a forever home he can and will thrive.
Sly has become very attached to me as I have to him…I my concern is that he will suffer because of my impulsive decision to adopt him. I feel the ideal person would be an individual who understands the breed(s) and has a firm yet compassionate hand to assist Sly to become a more confident dog.
Why is Sly Being Rehomed?
I lost my beloved dog Goldie about 2 years ago. I saw a rehoming post on FB and looked like the kind of dog I would like to have. He was quite a bit larger than my past dog, and like the outdoors as I do…I felt it was a perfect match.
Sly is a good dog, he has basic obedience training sit, stay, down… however when he gets in his defensive mode I lose control..and he will not obey me. I adopted Sly in October and have tried to work with him to help with his behavior. However I am 70 years old and feel that I can not offer him the help and training he needs.
I can love him, provide him, food and care but he needs more then that. He needs a firm hand, training, much more exercise then I can provide him..a fenced in yard and room to run. he absolutely loves the water!
I live in a condo and although I walk him regularly it is not enough…I have also developed and knee injury that keeps me from intense exercise. I do not have the financial or physical resources to give Sly what he needs.
Sly's Perfect Adoptive Home Will Be:
An adults only home in the country with a large, securely fenced yard. Sly needs an owner with lots of confidence who can relieve him of his duty being the Alpha. Sly needs an owner who can take him for long walks, hikes, swims and other adventures.
How To Adopt Sly
If you are interested in adopting this special Border Collie Karelian Bear dog mix in Nashville Tennessee, please fill out our online meeting request here. Once received and reviewed, our staff will ask the pets owner to reach out to you and arrange a meeting.
Sly – Karelian Bear Dog Border Collie For Adoption in Nashville TN
Sly is a Karelian Bear Dog Border Collie mix for rehoming in Nashville, TN. He is located near the following towns and cities in Tennessee:
Brentwood, TN
Goodlettsville, TN
Hendersonville, TN
Mount Juliet, TN
La Vergne, TN
Franklin, TN
Smyrna, TN
Gallatin, TN
Springfield, TN
Lebanon, TN
Spring Hill, TN
Murfreesboro, TN
Portland, TN
Dickson, TN
Columbia, TN
East Nashville, TN
Cumberland Heights, TN
Brooklyn Heights, TN
Avondale, TN
Jimtown, TN
Bordeaux, TN
Bordeaux Hills, TN
Cherokee Park, TN
West Nashville, TN
Berry Hill, TN
Woodbine, TN
Rosebank, TN
Richland, TN
Inglewood, TN
Green Hills, TN
Dalewood, TN
Glendale Park, TN
155 miles to Louisville, KY
183 miles to Birmingham, AL
184 miles to Lexington-Fayette, KY
195 miles to Memphis, TN
214 miles to Atlanta, GA
Adopt this Karelian Bear Dog Border Collie mix today.