Black Labrador Retriever Lab For Adoption Near Greenville NC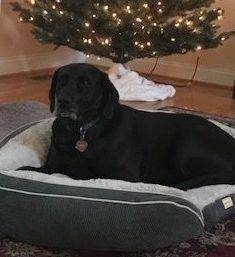 Meet Camry, Labrador Dog For Adoption in Winterville NC
Camry is a sweet and very pretty purebred Black Labrador Retriever dog in need of a loving new home in Winterville, NC, a few miles from Greenville. Camry is in good health and has been spayed, fully vaccinated and house trained.
She is a very gentle and loving dog at 7 years old. She weighs 85 pounds. Camry is good with kids and other dogs. She is being rehomed due to severe dog allergies in her family. She will be adopted with complete veterinary records and any supplies her owners have on hand for her. Adopt Camry today.
---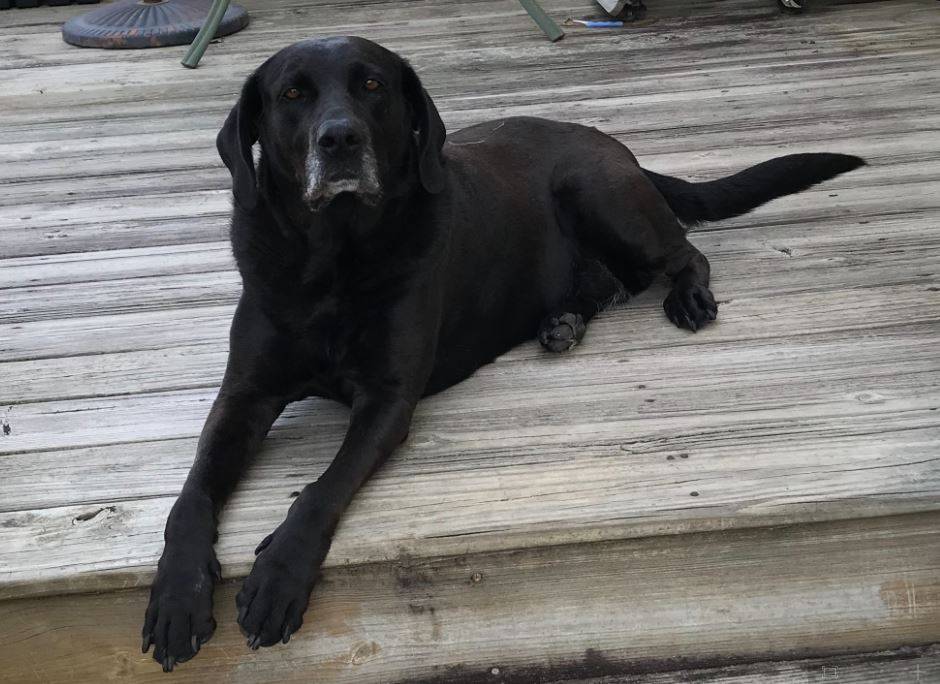 All About Camry – Black Lab For Adoption Near Greenville NC
Hi. My name is Camry, and I am an affectionate 85 pound black Labrador.  I like to lay right up against my people and cuddle. I love doggie cookies. I've always got room for another cookie!
I enjoy hanging around my yard and sleeping in my cozy dog bed. I live for walks and did I mention cookies? I love cookies!
I almost only bark when I feel protective. Most of the time I'm just happy to be with my family. If you let me, I'll be your best friend.
I'm very loving and sweet. I love leaning into people for rubs and hugs. If I get wet from the rain or a bath, I love being towel-dried.
I am not a fan of cats, but I love to play with other dogs. Loud noises make me nervous, and thunderstorms and fireworks are my biggest fears.
I'm pretty good on a leash, and love car rides! I'm not one of those dogs that will lick you all over… I am selective with my kisses. I show that I like you by leaning into you when you pet me. I'm very friendly!
Camry is 7 years old and in good health. She doesn't get enough walks anymore since her people were in an automobile accident. She deserves more interaction and exercise than she gets. She loves everybody! But she is a bit protective (just barking) with strangers walking by.
If you are looking for the sweetest, most loving companion to add to your family, adopt Camry. You will fall in love with those brown eyes. Adopt Camry today!
There is a $75 adoption/rehoming fee. Supplies and veterinary records will be included.
Questions about Camry? Contact our North Carolina dog rehoming team today.  Text CAMRY to (888) 833-2128 or email Camry@dog-lover.us. We look forward to hearing from you.
---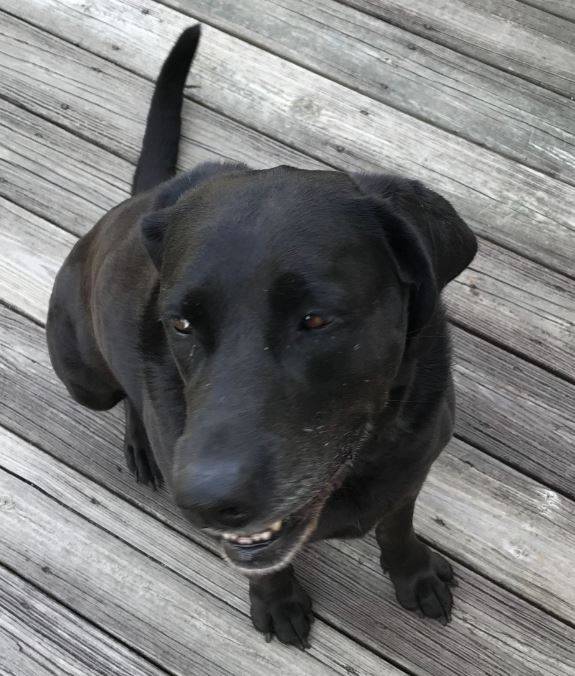 All About Camry – Black Labrador Retriever Dog For Adoption in Winterville NC
Name of Pet: Camry
Location: Winterville, NC, 28590
Type of Pet: Dog
Breed of Pet: Labrador Retriever
Sex of Pet: Female
Age of Pet: 7
Spayed/Neutered?: Yes
Health Problems: No
Behavior Issues: No
Up To Date on Vaccinations: Yes
Gets along with cats: Unknown
Gets along with dogs: Yes
Good with Children?: Yes
House Broken or Litter Trained?: Yes
Crate Trained?: Yes
Accessories Included: Her bed, crate, water and food bowls and stand, and her frontline and heartguard medicines (I buy in 6 month increments).
Camry's Personality
Camry loves hugs and rubs. Camry doesn't lick people. Camry loves to play with other dogs and kids. (She has jumped up on the backyard trampoline to play with my son). She doesn't need a lot of chew toys.
Camry's Current Home Environment
Two adults and one child and Camry live in a house. Camry is the only animal in the house. Camry is so laid back, relaxed, and sweet. She has a fenced in back yard that she spends time in when the weather is nice. She likes to sleep in her crate in the garage, unless there are bad thunderstorms. During bad weather, Camry is inside on her doggie bed, snoozing.
Camry's Current Family:
My family consists of me and my husband, and my teenage son. Camry has been with us for 6 years. When I got her, I had another dog and two cats. She was best friends with my other dog, but she tried to "get" the cats whenever she could. Camry has never been face to face with a cat that has claws, however. Now that Camry is our only pet, she is a much calmer animal. My husband has been her pack leader for the past three years.
Camry's Favorite Toys, Foods, Activities?
Camry loves ALL food, but she gets doggie treats often. She loves to go for walks in the woods, and she loves to sleep. She plays with sticks in the yard, but she hasn't shown any interest in store-bought toys.
Cute Camry Story:
When we were walking with Camry in the woods, we took her leash off, knowing she would stay near. At one point, she smelled something and went off the path as we kept walking. When Camry realized she couldn't see us, she sprinted out of the side path so fast, she tripped herself and rolled over, just to catch up to us.
Why is Camry Being Rehomed?
My husband has allergies to animals, and since the winter weather has kept Camry inside more than outside, his allergies have gotten much more severe. And on top of that, we were in a car accident and can't walk her as often as she needs.
Camry's Perfect Adoptive Home Will Be:
Camry needs a cat-free home with people who love dogs and know what they need. Camry would love children who want to interact with her, and parents who will walk her and let her be part of their family. She would love a home with other dogs, too.
Additional Comments:
Camry is not a dominant dog. She submits to other dogs, if they demand it. Otherwise, she is like a puppy with other dogs. She just wants to play.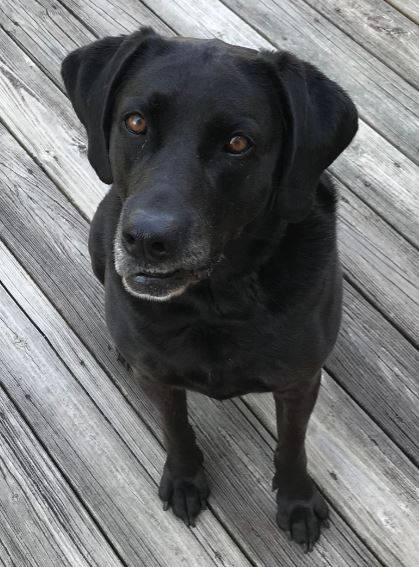 How To Adopt Camry
If you are interested in adopting this special Labrador Dog For Adoption in Winterville NC, please fill out our online meeting request here. Once received and reviewed, our staff will ask the pets owner to reach out to you and arrange a meeting to determine for certain if Camry is a good fit for you.
There is a $75 adoption/rehoming fee. Supplies and veterinary records will be included.
Questions about Camry? Contact our Labrador Retriever dog rehoming team today.  Text CAMRY to (888) 833-2128 or email Camry@dog-lover.us. We look forward to hearing from you.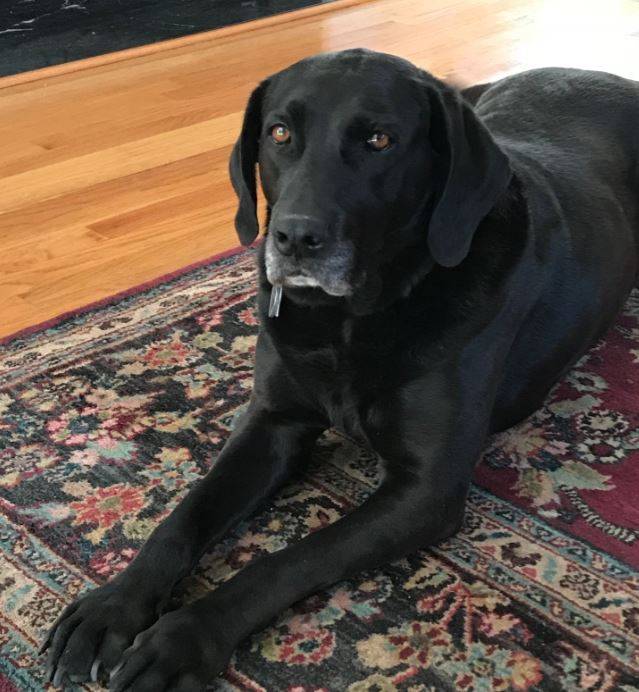 Camry – Black Lab For Adoption in Winterville NC
Camry is a black short-hair Labrador Dog for adoption in Winterville NC, within a reasonable distance of the following towns and cities in NC:
72 miles to Raleigh, NC
90 miles to Durham, NC
106 miles to Chesapeake, VA
111 miles to Norfolk, VA
122 miles to Virginia Beach, VA
140 miles to Greensboro, NC
Greenville, NC
Washington, NC
Kinston, NC
Tarboro, NC
Wilson, NC
Goldsboro, NC
New Bern, NC
Rocky Mount, NC
Smithfield, NC
Havelock, NC
Jacksonville, NC
Piney Green, NC
Clayton, NC
Roanoke Rapids, NC
Garner, NC
Robinson Heights, NC
Shamrock Terrace, NC
Weathington Heights, NC
Clevewood, NC
Devonshire Square, NC
Baywood, NC
Canterbury, NC
Treetops, NC
Dixons Crossroads, NC
Bedford, NC
Westhaven, NC
Greyleigh, NC
Evans Trailer Park, NC
Club Pines, NC
Belvedere, NC
Worthingtons Crossroads, NC
Adopt this sweet black Labrador Retriever Dog in NC today.