Obedience Trained Lab Border Collie Mix Dog For Adoption in Airdrie AB – Supplies Included – Adopt Duke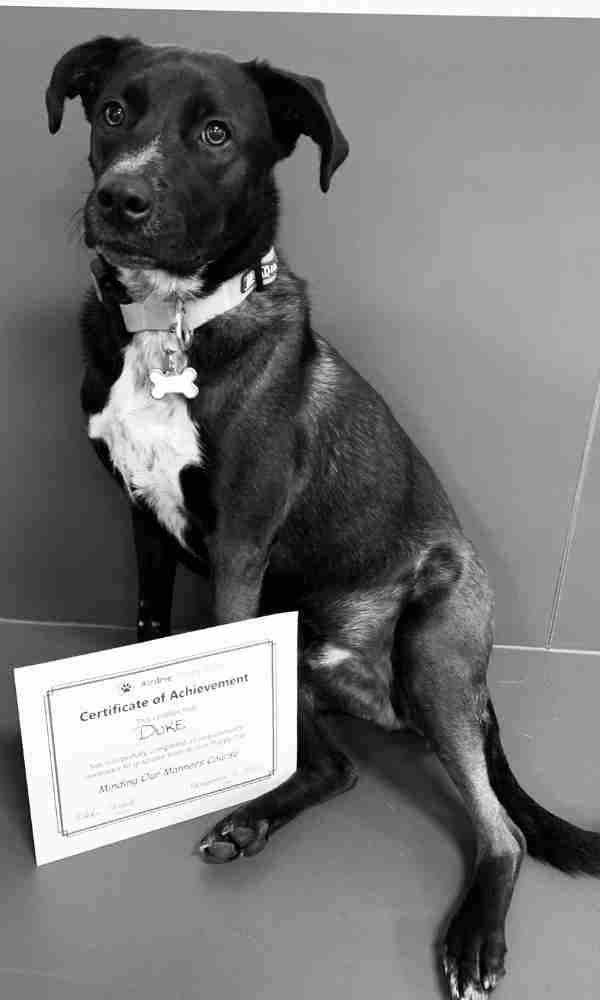 Labrador Retriever Border Collie Mix Dog for Adoption in Airdrie, AB
Looking for a Labrador Retriever Border Collie Mix Dog to adopt in Airdrie, AB? Just 3 years old and weighing 59 pounds, Duke is a healthy and very well behaved dog with so much love to offer his new family.
Duke is what we consider to be a "ready to love" dog. He has been fixed, fully vaccinated, housebroken, microchipped, leash trained, obedience trained and crate-trained. Duke is a fabulous family companion. He is so full of joy, and loves to run and play when  outdoors; his favourite games being tug-o-war and fetching his beloved ball. Inside, he is an angel – well behaved and respectful of his family members. He is the perfect dog for almost any family – particularly with older kids looking for a fun and affectionate dog to play with. He would be a great fit for a home with another small dog looking for a best friend.
Duke's fosters are hoping to find him his forever home. They are seniors, who kept Duke when their Grandson, his original owner, moved away. As much as they love him, they can't give Duke the exercise and playtime he needs and deserves
Duke's owners are very sad to have to rehome their cherished Dog. They are hoping to find a new home for Duke where this special Dog will be cherished and kept safe, happy, and healthy for life.
How To Adopt Duke the Lab Border Collie Mix in Airdrie
If you have room in your heart and home for Duke, please complete our online meeting request form. Once received, our Airdrie Dog Rehoming team will make arrangements for you to meet Duke and his/her owners. Adopt Duke today!
There is a $150.00 adoption processing fee. Supplies, accessories, and veterinary records will be included.
Questions about adopting Duke?
Text DukeAIRDRIE to (888) 833-2128. We look forward to hearing from you!
---
All About Duke – Labrador Retriever Border Collie Mix Dog For Adoption in Airdrie AB
♥ Name of Pet: Duke
♥ Location: Airdrie, AB, T4B 2Y8
♥ Type of Pet: Dog
♥ Breed of Pet: Labrador Retriever Border Collie Mix
♥ Color / Coat Type: Black/white
♥ Age of Pet: DOB 7/30/2019
♥ Size of Pet: 59 Lbs
♥ Health Problems: None
♥ Behavior Issues: None
♥ Gets along with: children, adults, small dogs, cats
♥ Pet is: Fixed, Fully Vaccinated, Housebroken, Microchipped, Leash Trained, Obedience Trained, Crate-trained
♥ Food: Other
Walmart- Premium and Costco brand we tend to stay away from chicken blends, 1 cup morning and 1 cup evening mixed with wet food Beneful.
Duke – Labrador Retriever Border Collie Mix Dog For Adoption in Airdrie AB
---
Duke's Personality
Duke is friendly and more of an indoor pet not meant to be tied outside. He took a manners course and follows directions like sit, lay down, relax and taking treats very well. He does get excited when we have company and he is very vocal not barking but talking howling.
He loves to run and when walking he pulls on the leash. He has a bed but occasionally we will find him on the couch. He is good with children, cats and small dogs. If you are going out for awhile we give him a raw hide stick to keep him busy. He loves to run and play ball or tug of war
Why is Duke Being Rehomed?
We are seniors and Duke belonged to my grandson who was living with us, then my nephew. We have a Yorkie and a cat we find it very difficult to care for 3 animals. I am having surgery where the recuperation is long neither my husband or I are able to walk the dog.
We have a new great granddaughter one month old he is not sure what to think he stares from a distance. He just had a check up at the vet on March 31st and was groomed on Tuesday 3rd May. We love the dog but a big dog is not an option for us. We can not care for him like he deserves.
Nearby Locations
Duke is located in Airdrie, AB, close to the following towns and cities:
Calgary AB,
Cochrane AB,
Crossfield AB,
Okotoks AB,
Irricana AB,
Black Diamond AB,
Strathmore AB,
Carstairs AB,
High River AB,
Didsbury AB,
Olds AB,
Nanton AB,
Sundre AB,
Three Hills AB,
Vulcan AB,
Thank you for your interest in this deserving Labrador Retriever Border Collie Mix Dog for adoption in Airdrie AB.