Large Breed Puppies Adoption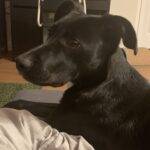 Adopt a Labrador Retriever Border Collie Mix Puppy in Arlington Virginia – Supplies Included – Meet Kurt
Kurt is a male Border Collie Labrador Retriever mix puppy for adoption to a very loving home in or near Arlington VA. This very special Black Lab mix is just 8 months years old and weighs 40 pounds.  Kurt is one very awesome puppy. He is very healthy and has no behavior issues. He has been neutered and is up to date on shots, as well as micro-chip.
Kurt is very well behaved and gets along with other dogs and cats. He is amazing with children and friendly to people of all ages and sizes. Kurt is part clown, part dog. He can make anyone laugh with his sometimes goofy personality. He's very charming and just a really nice dog.
...
Cane Corsos For Adoption Near You – Rehome or Adopt a Cane Corso Dog
Find Cane Corsos for adoption by owner throughout the USA and Canada on Pet Net. Need to Rehome Your Cane Corso Dog or Puppy? Pet Adoptions Network offers expert help ...