Purebred 2 YO F Beagle For Adoption in Baltimore MD Area – Adopt Topsy Today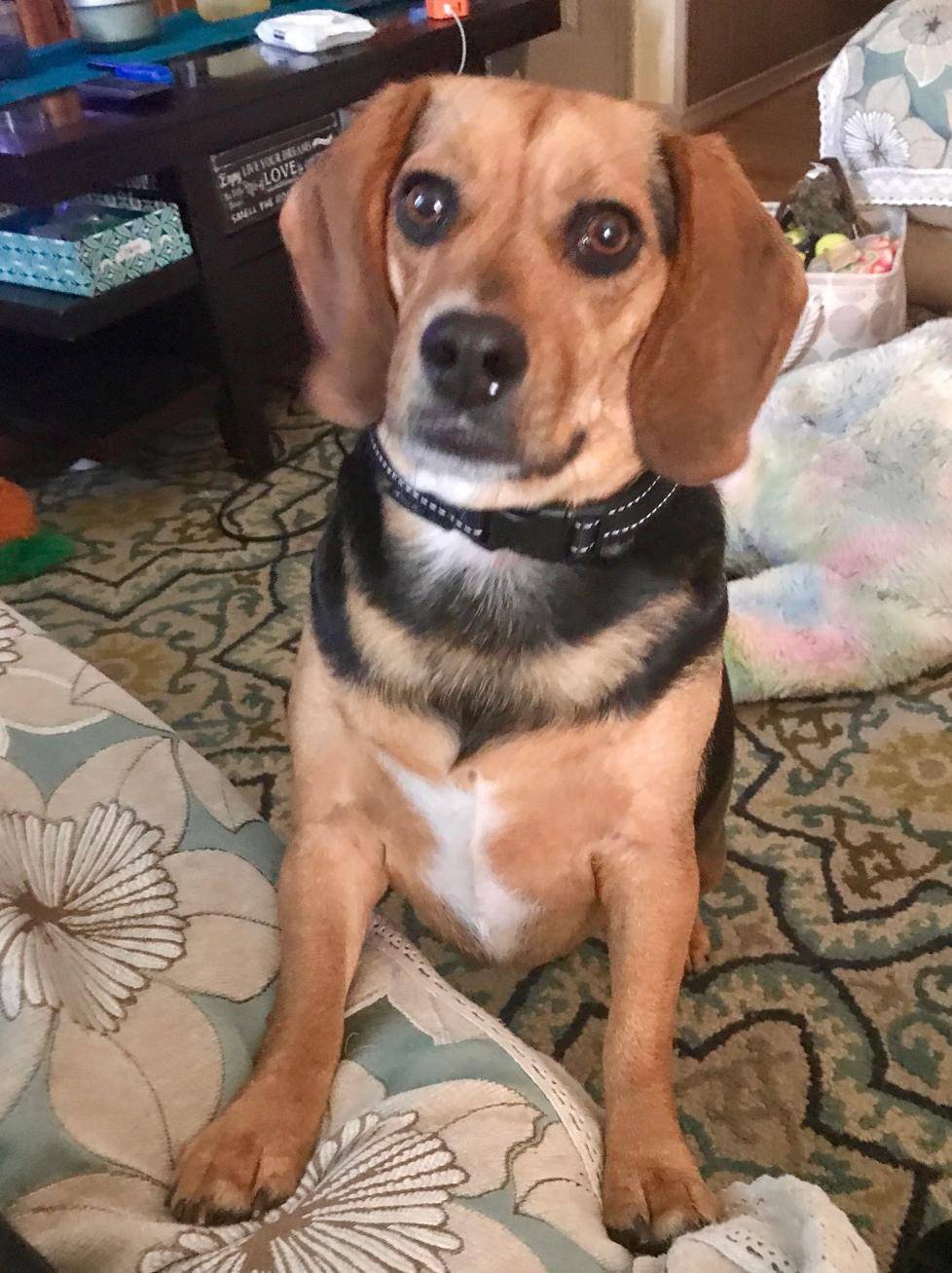 Meet Topsy- 2 YO Purebred Beagle Dog For Adoption in Baltimore MD Area
Looking to adopt a purebred Beagle dog in the Washington DC area?   Topsy is an absolutely adorable 2 year old Beagle looking for a very  loving home. Very sweet and well-behaved, she has been lovingly cared for by her owner since she was a puppy. Topsy is healthy, spayed and vaccinated. She is very well behaved and housebroken.
$75 Adoption/Rehoming Fee. All supplies, vet records included.
All About Topsy – Beagle For Adoption Baltimore MD
Life has been cruel to Topsy's owner as of late. She was involved in a serious car accident from which she barely escaped with her life. After multiple surgeries, she has chronic pain and disability. If this weren't enough to deal with, she and her husband divorced, and she has been left to fend for herself and her dogs on a very limited budget.
As much as she would dearly love to keep her beloved Beagle girls, the owner is not able to afford their care, and her disability makes it very difficult to provide them with the exercise and playtime they need and very much deserve.
The best possible scenario for these sweet girls and their loving owner would be to find them each a home where they will receive plenty of love, attention, care, playtime, exercise, good nutrition and veterinary care. They would make such a wonderful addition to the home of  retired or stay-at-home Beagle lovers who are looking for the sweetest dogs ever.
The owner is experiencing such a sense of loss in having to rehome her dogs. It would be so great to find new owners who would be willing to stay in touch with her, and even allow the occasional visit. Hopefully that would be OK with their new owners.
If you have room in your heart and home for Topsy and/or her sister, Lilly, please get in touch with their pet rehoming coordinator, Debbie Moore. You can call toll free (888) 720-3322 or fill out our online meeting request form here.
There is a $75 rehoming/adoption fee. All supplies and vet records will be included.
Location: Pasadena, MD, 21122
Type of Pet: Dog
Breed: Beagles
Age: 3
Color/Coat Type: Black and Tans and white
Size: 30-35 lbs
Health Issues: None
Behavior Issues: None
Personality
Topsy is a two year old active and curious beagle. She will figure out how to get a treat out of any puzzle. I bought her from the breeder and she was the runt of the litter. She does not go far from me. I always have to stay in her sight. She loves to play tug. She likes to sit behind a person on the back of the couch and lay her head on a shoulder as she snores.
Topsy has seasonal allergies, she gets 2 Benadryl 3 times a day when the pollen is at its worst. Her ears and bum become inflamed and itchy "ears and rears" according to the vet. She is also allergic to her yearly vaccinations. She is injected with a dosage of allergy medication prior to her shots. She enjoys claiming a lap while having a chew on a rawhide. She is also happy to play tug on a shirt or sweatshirt sleeve. Topsy is learning to walk on a leash. She will try to run after a squirt and bark at other dogs. It's a work in progress. She is up to date with her shots.
Food and Diet
Topsy is currently on Other
Reason For Rehoming
Divorce. I am unable to take care of my dogs after a car accident and multiple surgeries. My husband deserted me and left me destitute. I will not have a home to care for my dogs.
How to Adopt Topsy – Purebred Beagle in Baltimore MD Area
If you would like to consider offering Topsy  a loving, forever home, please fill out our Request To Meet A Pet form here:
https://pet-net.net/adopt-a-pet/
Once received, we will contact you to discuss your request and set up a mutually convenient time to meet Topsy and her owner in their home.
Purebred Beagle for adoption in Baltimore MD Washington DC  Green Haven MD
Severna Park MD
South Gate MD
Lake Shore MD
Glen Burnie MD
Riviera Beach MD
Arnold MD
Ferndale MD
Odenton MD
Severn MD
Brooklyn Park MD
Parole MD
Crofton MD
Annapolis MD
Dundalk MD
The Dales MD
Pasadena Manor MD
Selby Grove MD
Sabrina Park MD
Oaks of Severna Park MD
Earleigh Heights MD
Elvaton Acres MD
Edinboro Estates MD
Elvaton MD
Oak Hollow MD
Chartridge MD
Kilmarnock MD
Long Hill MD
Drexel Estates MD
Hampton Manor MD
Candlewood MD
Oakhill MD
Baltimore MD
Washington DC
Philadelphia PA
Adopt Topsy the Beagle today.