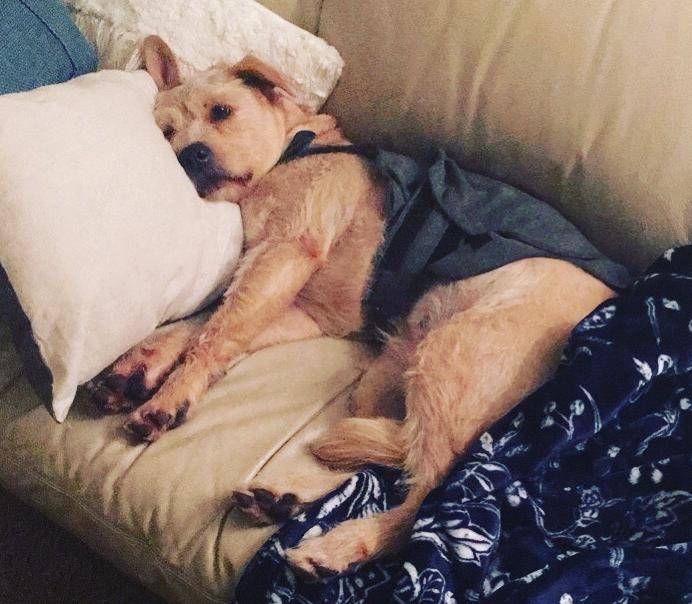 HEIDI HAS BEEN ADOPTED!
Heidi is "sweetness on 4 legs". This absolutely adorable little girl is just 4 years old. She is a lovely mix of Yellow Labrador Retriever and terrier. She looks a lot like Benji, the adorable and slightly scruffy dog from the Disney movies.
Heidi is such a loving dog. She gets along with people of all ages and sizes, from the tiniest toddler to senior citizens. She has been spayed and is very healthy. She is up to date on shots, and is house broken and leash trained. Heidi has also gone through obedience training and is so very well mannered. She has been micro-chipped, too.
Heidi has one issue that makes finding her a new home necessary; she has separation anxiety. Heidi does not like to be left alone, and tends to become very anxious and panicked. Her owner, who loves her so very much, is working full time, and simply cannot stay home with Heidi. Heidi is good in the car, and often goes with her owner to appointments, but with summer coming, staying in a hot car is just not an option for Heidi.
Heidi's owner is dearly hoping to find her the right home where she will not have to be left alone every day. She would love to keep in touch with Heidi, but only if her new family is comfortable with it.
Heidi would be such a great companion for a retired couple with plenty of time to spend with her. As mentioned, she is good in the car, and can go along for grocery trips and doctor appointments. She is good with other dogs, but needs a little time to warm up to them.
Heidi is absolutely precious. In the right home with people who do not have to leave her alone when they go to work, she will shine. Please offer this cutie the home she needs and deserves today. All supplies and vet records will be included.  She can't wait to snuggle with you!
---
About Heidi – Yellow Labrador Retriever Mix For Adoption in Seattle WA
Location: Seattle, WA, 98119
Type of Pet: Dog
Breed: Mix: Yellow Labrador Retriever and Airedale Terrier Mix
Age: 4 almost 5
Color/Coat Type: Blonde like a yellow lab
Size: 50lbs
Health Issues: No
Behavior Issues: Separation Anxiety
Heidi is:
Neutered, Microchipped, Fully vaccinated, House Broken, Leash Trained, Obedience Trained
Heidi gets along with:
Babies, Toddlers, Small Children, Older Children, Adults Only, Dogs, Strangers
Heidi's Personality
Heidi is really the sweetest girl on the world. All she wants to do is snuggle and be with her person. She's very calm and gentle when she is with her person. She is sneaky and could try to go after food if it's left in even a remotely accessible area. She doesn't do this to me, but has to several sitters. Heidi has leash aggression towards other dogs, sometimes I can tell she genuinely just wants to play, sometimes I think she's trying to protect me.
Heidi's Food and Diet
Heidi is currently on Other
Heidi eats Hills BDM prescription diet and Royal Canin calm
Reason For Rehoming Heidi
I've had Heidi for almost a year and I've been working with the vet and 2 behavioral therapists to try to get her anxiety under control. She's gotten a little better but she is still not able to be home alone. She's good in the car so she spends a lot of time in there but with the summer coming up she cannot sit in a hot car and I cannot afford a sitter for her everyday. I also cannot continue to pay for damage she does to my apartment and recently my car she is alone.
How to Adopt Heidi – Airedale Terrier Mix Dog For Adoption in Seattle WA
If you would like to meet Heidi to find out if she is a good match for you – and you for her, please fill out our online meeting request form below. Once received and reviewed by our staff, we will ask Heidi's owner to reach out to you to arrange a mutually convenient time to meet. At that time, if you mutually agree to an adoption, you and the owner will arrange further details as to her transitioning into your home.
Heidi is a very sweet, healthy, fixed and vaccinated female Airedale Terrier Labrador Retriever mix dog for adoption in Seattle, WA. She is located within a reasonable distance of Victoria, Surrey and Vancouver BC, Portland OR, and close to the following Washington towns and cities:
Mercer Island, WA
Bellevue, WA
White Center, WA
Kirkland, WA
Burien, WA
Newcastle, WA
Tukwila, WA
Renton, WA
Shoreline, WA
SeaTac, WA
Lake Forest Park, WA
Redmond, WA
Kingsgate, WA
Kenmore, WA
Sammamish, WA
Yesler Terrace, WA
Belltown, WA
Capitol Hill, WA
Madrona, WA
Broadway, WA
Queen Anne, WA
Broadmoor, WA
Mount Baker, WA
North Broadway, WA
Madison Park, WA
South Seattle, WA
Ross, WA
Youngstown, WA
Wallingford, WA
Edgewater Park, WA
West Seattle, WA
Georgetown, WA
Adopt this lovely little Airedale Terrier mix dog today!