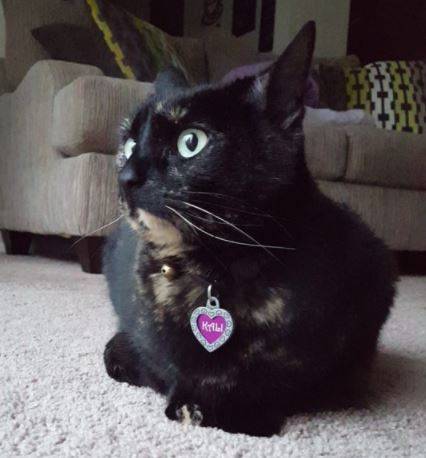 Questions? Call or text our KALI ADOPTION HOTLINE: (614) 412-3066
Meet Kali, Cat For Adoption in Reynoldsburg OH

Meet Kali – a lovely Tortoiseshell cat for adoption near Columbus, in Reynoldsburg Ohio. Kali is seven years young and weighs 13 pounds. Kali has been spayed and is up to date on her shots. She is a very healthy and well-behaved cat- very much a joy to own.
Kali has a velvety-soft tortie colored coat and the most amazing light green eyes (almost aqua). Her personality is equally gorgeous – she is very affectionate and loves to cuddle in bed with her owners. She has a very loud purr that lets you know she adores you.
Kalis' owner is very sad to have to make the decision to find her a good home. Unfortunately Kali has severe anxiety around children and other animals. With a baby on the way, the home will soon become filled with sounds, smells and activity that are sure to increase Kalis' anxiety. The owner wants Kali to be happy and is also concerned about how she would behave with a baby in the home. Finding a cat lover to cherish Kali is the best solution for everyone.
Kali is looking for a very loving only-pet home without children. She is best suited for a quiet home with a strong routine, as she is not a fan of surprises. Once she is comfortable in her new home, you will find that Kali is about the sweetest cat you have ever met. She is a wonderful companion.
Kali will be adopted with any supplies her owner has on hand for her and also her veterinary records.
Please adopt this sweet little Tortoiseshell cat near Columbus Ohio today. She can't wait to purr her way into your heart.
[button link="https://pet-net.net/adopt-a-pet" size="large" align="center"]Request to Adopt Kali Here[/button]
There is a $40 adoption/rehoming fee. Supplies and veterinary records will be included.
Questions about Kali? Contact our Columbus cat rehoming team. Text or call or send an email to [email protected]
---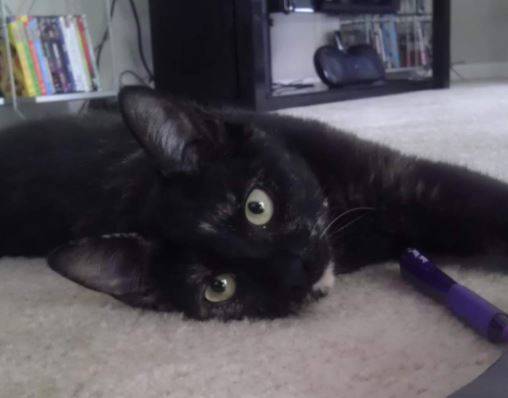 All About Kali – Tortoiseshell Tortie Cat For Adoption in Reynoldsburg OH
[one_half]
♥ Name of Pet: Kali
♥ Location: Reynoldsburg, OH, 43068
♥ Type of Pet: Cat
♥ Breed of Pet: Tortie Tortoiseshell  Cat
♥ Color / Coat Type: Multicolored short hair
♥ Age of Pet: 7 years old
♥ Size of Pet:13 lbs
[/one_half]
[one_half_last]
♥ Health Problems: no
♥ Behavior Issues: no
♥ Gets along with: Cat lovers
♥ Pet is: Spayed
♥ Food: Other
I feed her Aldi brand cat food.
[/one_half_last]
---
Kali's Personality
Kali is spayed, micro-chipped, litter and scratch post trained. She loves adults. She will follow you around the house when she is up and active. She loves to sleep in the bed with you at night too. She likes to play with toys and has a strong purr. She does not get along with other animals or children. She is also not declawed.
Why is Kali Being Rehomed?
I am 32 weeks pregnant, and I am worried about how Kali will interact with the baby. She has always shown fear  aggression toward children. I want to find her a new home – taking her to the shelter would be my last option as this would be very traumatic for her.
Kali's Perfect Adoptive Home Will Be:
Kali needs a quiet home with adults only. She is very people-oriented and is a great companion.
How To Adopt Kali
If you are interested in adopting this special For Adoption in Reynoldsburg Ohio, please fill out our online meeting request here. Once received and reviewed, our staff will ask the pets owner to reach out to you and arrange a meeting.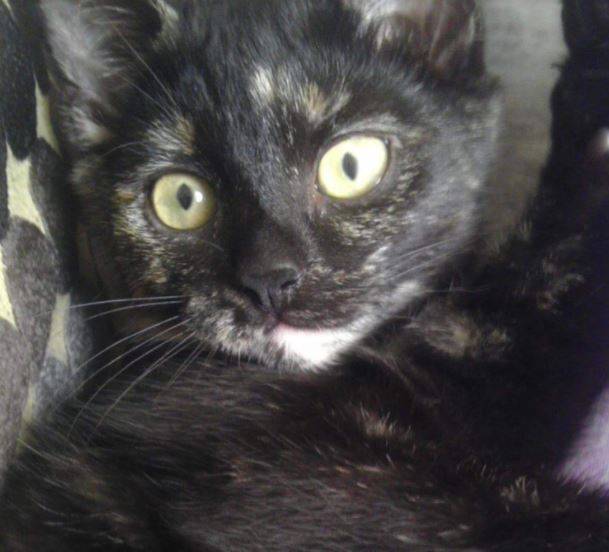 Kali – Tortoiseshell Tortie Cat For Adoption in Reynoldsburg OH
Kali is a beautiful Tortoiseshell cat for rehoming in Reynoldsburg, OH.
She is located near the following towns and cities in OH:
[one_third]Pataskala OH
Columbus OH
Westerville OH
Upper Arlington OH
Worthington OH
Grove City OH
Lincoln Village OH
Dublin OH
Hilliard OH
Lancaster OH
Briarcliff OH
[/one_third]
[one_third]Whitehall OH
Blacklick Estates OH
Gahanna OH
Pickerington OH
Bexley OH
Rose Hill Heights OH
Idlewood Manor OH
Brice OH
Taylor Station OH
Blacklick OH
Big Walnut OH
[/one_third]
[one_third_last]Chevington Woods North OH
Whitehall OH
Truro OH
Summit Station OH
Wagram OH
Blacklick Estates OH
Havens Corners OH
Wonderland OH
Doneys OH
Edgewater Park OH
[/one_third_last]
Adopt this gorgeous Tortie cat in Columbus Ohio today.