Shiba Inu Corgi Siberian Husky Mix Dog For Adoption in Ypsilanti MI Near Ann Arbor Detroit Windsor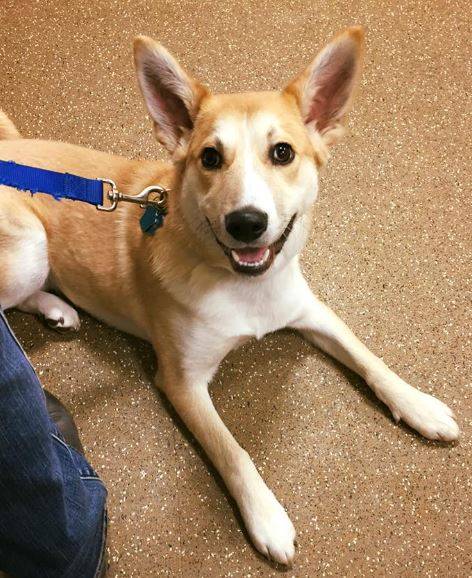 Meet Finn – Shiba Inu Welsh Corgi Siberian Husky Dog For Adoption in Ypsilanti MI
There is a $125 adoption/rehoming fee. Supplies and vet records will be included.
Questions About Finn?? Text "Interested In Finn" to (888) 833-2128 or email adoptFinn@pet-lover.us
I don't know about you, but little kids make me really, really nervous. You never know when they will suddenly start running towards you with a big toy in hand, or start screaming for no apparent reason. They smell funny, and they move in a strange way. They are really frightening to dogs like me.
My name is Finn. I am a really nice mix of Shiba Inu, Welsh Corgi and Siberian Husky. At just 2 years old, I am a medium sized dog weighing just 37 pounds. My owners have taken great care of me – I am neutered, microchipped, fully vaccinated, crate trained, house broken, leash trained, and even obedience trained. I am good with other dogs, but cats – not so much.
My owners tell me that I am the nicest dog they know. They love me so much. I am smart, compassionate, devoted and funny. I love them back even more, and that's why it's so sad that I am looking for a new home. The problem is little kids. (as you might have guessed!). My owners have lots of neices and nephews that are always around, and (horrors!) they are hoping to soon have a family of their own. They realize that it is not fair to me to be cooped up in my kennel all the time when the little terrors visit, and once they have kids of their own, it will be even more difficult to keep me safe and happy.
They are dearly hoping to find me the home I deserve – a quiet, predictable environment where I can be myself, and not be constantly rattled by the presence of tiny humans.
In exchange for a loving, adults only home, I promise to shower you with devotion, add love and joy to your life, and give you a good reason to get outside to play each day.
I am a ready-to-love, self-fetching, cuddle bunny – and I can't wait to dazzle you with my amazing smile and show you the real meaning of unconditional love. Please offer me a loving home today.
There is a $125 adoption/rehoming fee. Supplies and vet records will be included.
Questions About Finn?? Text "Interested In Finn" to (888) 833-2128 or email adoptFinn@pet-lover.us
---
All About Finn, A Siberian Husky, Welsh Corgi, Shiba Inu Mix Dog For Adoption Near Detroit Windsor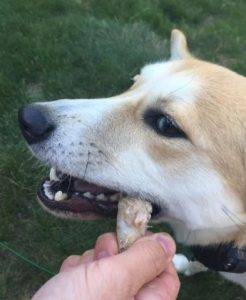 Location: Ypsilanti, MI 48197
Type of Pet: Dog
Breed: Shiba Inu/Corgi/Husky
Age: 2 years old
Color/Coat Type: Cream & white; short hair
Size: 37 lbs
Health Issues: No
Behavior Issues: Finn's only behavioral issue is his serious fear of children.
Finn is:
Neutered, Microchipped, Fully vaccinated, Crate Trained, House Broken, Leash Trained, Obedience Trained
Finn gets along with:
Adults, Dogs, Strangers
Personality
Finn is a loveable, snuggly goofball. He loves, loves to play fetch – we play outside a lot, but he also loves to play on the basement stairs, and will even play by himself by nudging the ball down the stairs and chasing after it. Finn will play like crazy for 20-30 minutes, and then settle down on the floor with a big sigh, or come up on the couch and snuggle close. One of his goofiest traits is that when he's had enough playtime, he'll fetch the ball one last time, hold it in his mouth, and trot right past you to get some water and find a place to flop down for a nap. When he's done, he's done!
He is "talkative" like a husky, and we frequently joke that he gets sassy with us when we don't get him his dinner on time! He's 37 lbs, but he's convinced he's a lap dog. He loves to be on the couch next to us, with his head in my lap or stretched out beside me so I can scratch his belly. He adores his "little brother" Ben (our 6lb doxie poo) and is thrilled when he gets the chance to play with other dogs, especially small ones or girls — he's definitely a ladies man!
We have taken him to the dog park and he also goes to Camp Bow Wow when we go out of town. He passed all of their temperament tests with other dogs, and is a staff favorite.
Finn passed Beginner, Intermediate, and Advanced training at Petsmart with flying colors, and will sit, stay/wait, "touch", come, and lay down on command. He is very treat motivated and loves attention.
He is definitely a chewer — he's never munched on anything he's not supposed to, but he makes short work of most toys, even ones for "powerful chewers"! We have a bucket of toys that he loves; moose antlers are a particular favorite. He also adores his giant tennis ball, and we love it because it's too big for him to tear to pieces! Fluffy toys are off limits for him because they'll be a pile of fluff in no time, but anything he can gnaw on for a few hours is perfect.
Finny is completely housebroken — we're embarrassed to say the only time he ever had an accident in the house was when we thought he was asking to go outside to play, so we kept telling him no. After about 15 minutes of impatient pawing at the door, he walked right over to us and peed in front of the couch, staring at us the whole time as if to say "This is your fault!" Other than that, he's never had any accidents. We use bells hanging on the sliding glass door, so when he needs to go out, he just rings the bells. He can hold it for 10 hours or so in his kennel if he has to.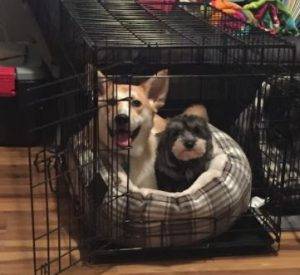 He sleeps in his kennel at night, and if we're going to be gone for long period of time (more than an hour or two) we leave him in his kennel with a couple of toys. He enjoys being in his kennel. If we stay up past his bedtime, sometimes he'll disappear and we find him curled up in there, looking at us like "it's time for bed guys, turn off the light!"
Finn is great in the car — whether roaming or in his kennel; if you hold the door open he'll jump right inside. The longest car ride he's gone on is about 5 hours, and slept through most of it!
On a sunny day, he'll lounge out in the yard soaking up the rays for an hour or two, and he's always up for a game of fetch in the yard, but mostly he'll go outside to do his business and then wait to be let in within a few minutes — he really just wants to be close to his people.
Food and Diet
Finn is currently on Other
We feed him 1 ¼ cup of Iams food twice a day (morning and evening) – and he definitely knows when it's time for food. If you say the magic words, he'll come running! He eats side by side with our 6lb dog, and as long as the little guy minds his own business, everything is peachy. Finn doesn't mind being touched or approached while he eats, and is not aggressive or territorial with people where his food is concerned.
Reason For Rehoming
Finn is truly the perfect dog, with only one flaw. He is energetic, affectionate, loves to snuggle and play fetch, is well trained to sit, come, and lay down, and wait. He loves other dogs (particularly small dogs and females), is great in the car, and loves to meet people. His only flaw is that he is terrified of children. He is comfortable around teenagers (15+), but small children terrify him. His first instinct is to run away, but if cornered or startled by a child in a situation where he can't escape, he will snap at them. Finn would make a perfect dog for people who don't/won't have children and don't have a lot of children in their life. Unfortunately, my husband and I are planning on having children soon, and we have several nieces and nephews who are at our house frequently. It's not safe to allow Finn around the kids, and it's not fair to keep him locked up every time they come over — an option that we won't have once we have our own children. For their safety, and for Finn's, we need to find him a home without kids.
How to Adopt Finn
If you would like to consider offering Finn a loving, forever home, please fill out our Request To Meet A Pet form here:
https://pet-net.net/adopt-a-pet/
Once received, we will contact you to discuss your request and set up a mutually convenient time to meet Finn and their owner in their home.
There is a $125 adoption/rehoming fee. Supplies and vet records will be included.
Questions About Finn?? Text "Interested In Finn" to (888) 833-2128 or email adoptFinn@pet-lover.us
Finn is a Shiba Inu/Corgi/Husky Dog For Adoption in Ypsilanti MI near Ann Arbor, Detroit, Windsor ON,
Canton,
Romulus,
Wayne,
Westland,
South Lyon,
Garden City,
Inkster,
Livonia,
Taylor,
Novi,
Dearborn Heights,
Redford,
Farngton,
Wixom,
Eastlawn,
Willow Run,
Geddes,
Rawsonville,
Denton,
Dixboro,
Edgewater Heights,
Cherry Hill,
Paint Creek,
Pittsfield,
Frain Lake,
Ann Arbor,
Stony Creek,
Willis,
Belleville North,
Belleville and Sheldon,MI. Adopt Finn today.
There is a $125 adoption/rehoming fee. Supplies and vet records will be included.
Questions About Finn?? Text "Interested In Finn" to (888) 833-2128 or email adoptFinn@pet-lover.us