15 LB Black Female Ragdoll Mix Cat For Adoption Tucson Arizona – Supplies Included – Nellie
Meet Nellie – 15 Pound Black Female Ragdoll Mix Cat For Adoption in Tucson Arizona
$25 Adoption Processing Fee. All supplies will be included.
Questions about Nelly?? Text "Nelly Ragdoll Cat Tucson" to (213) 297-7446 or email AdoptNelly@cat-lover.us
---
All About  Nellie – 15 Pound Black Female Ragdoll Mix Cat For Adoption in Tucson Arizona
Nellie is a big, beautiful girl. This sweet Ragdoll mix cat has amazing green eyes set like jewels against her long, lustrous black coat. With her large frame and coat type, she is clearly a mix of Ragdoll and domestic longhair cat.
Nellie is very healthy. She is just 9, and has been spayed. She has always been an indoor cat. Nellie is very polite, and has impeccable litter box habits.
Nellie's owner loves her a lot. Unfortunately, his fiance is very allergic to cats and cannot live in a home with cats else she face serious health issues. Nellie's owner is dearly hoping to find a cat lover who will cherish this large and lovely cat, and keep her safe, happy and healthy.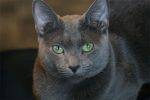 Nellie is being rehomed along with another cat, Ziggy, a gorgeous Russian Blue cat. She would love to be adopted with her best friend, but can also be adopted by herself.
Nellie is shy when she first meets you, and may even hide. But once she is familiar with her surroundings and people, she comes out of her shell nicely. She will even come when called!
Nellie's ideal home will be once without small children or other cats. She would be fine with older, respectful kids, and cat-friendly dogs.
Please offer this beautiful girl the loving home she needs and deserves. She can't wait to purr her way into your heart!
Questions about Nelly?? Text "Nelly Ragdoll Cat Tucson" to (213) 297-7446 or email AdoptNelly@cat-lover.us
Location: Tucson, Arizona, 85712
Type of Pet: Cat
Breed: Domestic Medium Hair
Age: 9 years
Color/Coat Type: Black medium length fur
Size: 15 lbs
Health Issues: No
Behavior Issues: No
Nellie is:
Spayed, Litter Trained
Nellie gets along with:
Older Children, Adults, Dogs, Cats
Personality
Very appreciative of attention once she knows you
Food and Diet
Nellie is currently on Other
Costco
Reason For Rehoming
My fiancé is highly allergic to cats
How to Adopt Nellie
If you would like to consider offering Nellie a loving, forever home, please fill out our Request To Meet A Pet form here:
https://pet-net.net/adopt-a-pet/
Once received, we will contact you to discuss your request and set up a mutually convenient time to meet Nellie and their owner in their home.
Nelly is a beautiful 15 pound female Ragdoll mix cat for adoption in Tucson AZ, close to Oro Valley,
Marana,
Green Valley,
Eloy,
Sierra Vista,
Nogales,
Florence,
Coolidge,
Casa Grande,
Polo Village,
Pueblo Gardens,
Polvo,
South Tucson,
Craycroft,
El Rio,
Pascua Yaqui Indian Village,
Amphitheater,
Vandenberg Village,
Tucson Country Club Estates,
Kingston Knolls Terrace,
Catalina Foothills,
Indian Ridge Estates,
Oracle Foothills Estates,
Emery Park,
Stockham and
Rolling Hills Country Club Estates, AZ. Tucson is a reasonable drive from Phoenix, Scottsdale, Mesa and Chandler, AZ.
Questions about Nelly?? Text "Nelly Ragdoll Cat Tucson" to (213) 297-7446 or email AdoptNelly@cat-lover.us