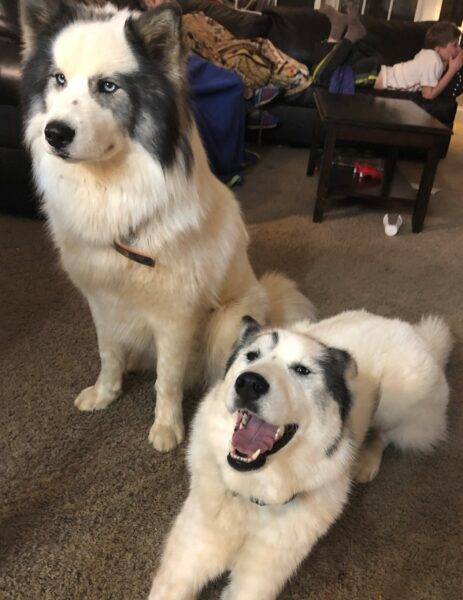 Meet Cubby Bear & Piper, Siberian Huskies For Adoption in MANASSAS VA
Cubby Bear and Piper are a brother/sister pair of purebred Siberian Huskies for adoption in Manassas, Virginia. They are very unique and special "Piebald Huskies", and look like very large children's plushie toys. They are 4 years old and weigh about 50 pounds each.
Both Cubby Bear and Piper are in good health. Piper has been spayed, and both dogs are up to date on their shots, micro-chipped, house broken, crate trained leash trained and obedient. They are good with people of all ages, from babies and small children to seniors.
To say that this gorgeous pair of Huskies are very much loved is an understatement. Their owners absolutely adore them, and that is what makes their rehoming situation so tragic.
In late March, a pest-control service worker accidentally left the gate to the family's very well fortified back yard open, which allowed Cubby and Piper to escape, as Husky's will do, given the opportunity. They very unfortunately made their way to a local hobby farm where the dogs instincts took over, and a couple of goats were killed.
Cubby and Piper's owners were devastated, and paid the goat owners a substantial sum of money in reparations, along with an explanation for how the dogs were able to get out. Unfortunately that has not been enough for the hobby farmers, who are insisting that the dogs be euthanized.
Pet Adoptions Network has been tasked with finding Cubby Bear and Piper a new home outside of their current area to avoid the family having to euthanize their beloved dogs. They would prefer to find a home within an hour or two of Manassas, and out of the jurisdiction, to ensure that the dogs are kept safe. Target areas include Norfolk, Chesapeake, Philadelphia, Pittsburgh, Durham, Raleigh and Greensboro (as well as smaller towns and cities within these areas.
If you are a Siberian Husky lover with the right situation for this delightful pair of dogs, please reach out and offer them a home today. They can't wait to meet you and charm their way into your heart and home. Adopt Cubby Bear and Piper today.
How To Adopt Cubby Bear & Piper
If you are interested in this very special pair of Siberian Huskies For Adoption in MANASSAS VA, please fill out our online meeting request below. Once received and reviewed, our staff will ask the pets owner to reach out to you and arrange a meeting.
There is a $500 adoption/rehoming fee. Supplies and veterinary records will be included.
Questions about Cubby Bear & Piper? Contact our MANASSAS Dog rehoming team today.
Text "CubbyBearPiper" to (888) 833-2128 or email [email protected]. We look forward to hearing from you.
---
All About Cubby Bear & Piper – Siberian Huskies Dog For Adoption in MANASSAS VA
♥ Name of Pet: Cubby Bear & Piper
♥ Location: MANASSAS, VA, 20112-8672
♥ Type of Pet: Dog
♥ Breed of Pet: Siberian Huskies
♥ Color / Coat Type: Piebald- white with black patches
♥ Age of Pet: 4.5 years
♥ Size of Pet: 54 lbs each
♥ Health Problems: no
♥ Behavior Issues: no
♥ Gets along with: Babies, Toddlers, Small Children, Older Children, Adults Only, Dogs
♥ Pet is: Spayed, Neutered, Microchipped, Fully vaccinated, Crate Trained, Litter Trained, House Broken, Leash Trained, Obedience Trained
♥ Food: Other
Cubby Bear & Piper's Personality
They are the sweetest, though I would have thought they'd be less rambunctious by now. I think they rile each other up, but not in a dangerous way. If one escapes, he/she comes back pretty soon because they are bored without the other. When they've both escaped, it's an hour of solid running through the woods.
Every person that comes here comments on how sweet the dogs are with people and especially small children. Our 19-month old has a thing for eyes–will literally grab an eyeball or handful of fur on a dog's face–and they tolerate it… they've never snapped at a person.
They do know to sit for treats, but they do like to jump up/stand on hind legs to kiss faces–that's the most alarming behavior they exhibit for people uncomfortable around big dogs.
Piper is spayed but Cubby is not neutered. He does not do well with dogs that are also not neutered. All dogs love Piper. We have not exposed them to other animals for fear of a their instincts taking over, and they do not interact often with other dogs. They are vaccinated, microchipped, housebroken, leash trained and obedient, but not obedience trained.
Why are Cubby Bear & Piper Being Rehomed?
We're in a terrible spot.
Monday, March 29, a pest control tech was doing quarterly service, and despite explaining the importance of closing gates, she not only allowed our 2 huskies to escape, she left without telling us they had. They could have been loose as long as 90 minutes before I realized it. We've greatly minimized their escapes by fortifying our fence line. It really is only human error that allows for it now. And usually, it's a race to the nearby river, exasperating and embarrassing, but not dangerous or destructive. I sheepishly gather the dogs from whomever collected them, they tell me what sweet, fun dogs they are and tell the dogs to come back and visit.
Last Monday was different. They went the opposite way and killed 2 goats and maimed a third that needed to be put down. Of course we were appalled, apologetic and embarrassed and have privately arranged to compensate the goats' owners for their animals.
We had a visit from 2 police and animal control an hour later, and they assessed the dogs to be sweet and safe. They reassured us that dogs being aggressive with animals does not transfer to humans. But since Piper and Cubby killed livestock, in Va, Animal Control is required to file civil charges and we are required to go to court, where the judge could give the us anything from a reprimand to an order to re-home the dogs to a state non-adjacent to VA, or euthanization. That seems very unjust under the circumstances. In 4.5 years, they've never shown aggression towards humans and have only successfully killed a small bird before the goats. Their presence alone keeps all other critters far from our house and yard.
However, we realize the danger that the goats' owners farmette is now in, as well as our dogs'. If they managed to escape again, I presume they'd go right back to that house and be either shot or ordered euthanized. We are heartbroken to be put in this position, but we realize re-homing Cubby and Piper outside of Prince William County (VA) is the safest option.
Cubby and Piper are 4.5 and have been separated for only one day their whole lives. We brought Cubby home as an 8-week old on a Saturday, and on Sunday, the breeder told us Piper hadn't stopped crying for her brother, so we brought her home. She is spayed, but he has not been neutered—he is so beautiful, my husband thinks it would be a disservice to not breed him, but we haven't had the wherewithal for all that.
Any leads or suggestions for a great home for both dogs would be ideal, but of course they could be separated in the absence of one household being able to take both dogs. If possible, we'd love an arrangement where our kids could visit every now and again. This is so devastating for them.
---
Cubby Bear & Piper – Siberian Huskies Dog For Adoption in MANASSAS VA
Cubby Bear & Piper are Siberian Huskies for rehoming in MANASSAS, VA.
They are looking for a home near the following cities:
Norfolk, VA
Philadelphia, PA
Chesapeake, VA
Virginia Beach, VA
Pittsburgh, PA
Durham, NC
Raleigh, NC
Greensboro, NC
Adopt these Siberian Huskies in Manassas VA today.