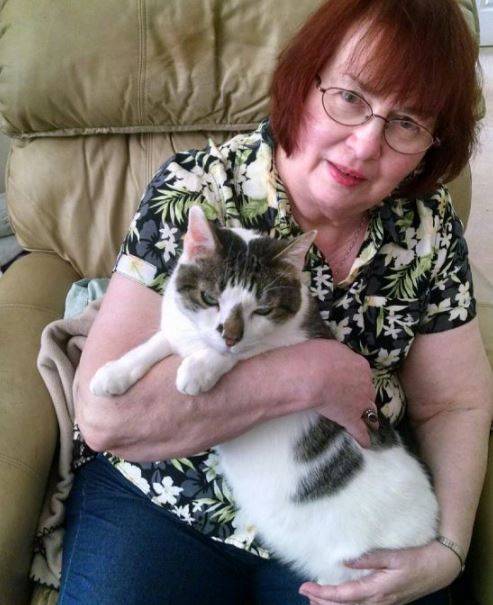 Meet Trey – Black and White Domestic Shorthair Cat For Adoption in Charlotte NC
It is rare to find a cat as laid back and lovable as Trey. He is a sweetheart in every sense. This handsome black and white domestic shorthair cat is just 5 years old, very healthy, fixed, up to date on shots, and very well behaved. Trey's litter box habits are impeccable, and he is kind, sweet and gentle with people of all ages and sizes – including little kids, of whom most cats are terrified.
Trey has been a beloved companion for his owner since he was a kitten, and tragically, she has had to enter a nursing home due to her failing memory. The owner is dearly hoping to find Trey a very loving home where he will be cherished as much as he is now, and where he will receive plenty of love, care, attention and snuggles.
Trey is one of those cats that wraps his little white paws around your heart and never lets go. He is so special. He would be a wonderful emotional support pet for someone with anxiety or depression. He would fit in well with a family with children, too. He is so agreeable, that there are few situations into which he would not fit nicely.
Facing a rapidly deteriorating memory is a lot for Trey's owner to have to bear, and worrying about what will become of her beloved feline companion does not make things easier. Please offer this sweet cat a loving home, and at the same time give his owner some peace of mind in the face of such an uncertain future. Adopt Trey today!
[button link="https://pet-net.net/adopt-a-pet/" size="large" variation="hotpink" align="center"]Request to Meet Trey Here![/button]
There is a $25 adoption/rehoming fee. Supplies and vet records will be included.
---
Location: Charlotte, NC, 28226
Type of Pet: Cat
Breed: Tabby and White Domestic Shorthair
Age: 5 years
Color/Coat Type: Tabby and white short hair
Size: 12 pounds
Health Issues: No
Behavior Issues: No
Trey is:
Neutered, Microchipped, Fully vaccinated, Litter Trained, House Broken
Trey gets along with:
Babies, Toddlers, Small Children, Older Children, Adults, Cats, Strangers
Personality
Sweet, loving, VERY affectionate. Loves people…everyone.
I'd take him myself if I could.
Food and Diet
Trey is currently on Hills Science Diet
Purina natures dry and little friskies canned
Reason For Rehoming
The cat's owner is moving to a nursing home.
How to Adopt Trey
If you would like to consider offering Trey a loving, forever home, please fill out our Request To Meet A Pet form here:
https://pet-net.net/adopt-a-pet/
Once received, we will contact you to discuss your request and set up a mutually convenient time to meet Trey and their owner in their home.
Trey is a healthy 5 yo black and white male  domestic shorthair Cat For Adoption in Charlotte, North Carolina.. Adopt Trey today.