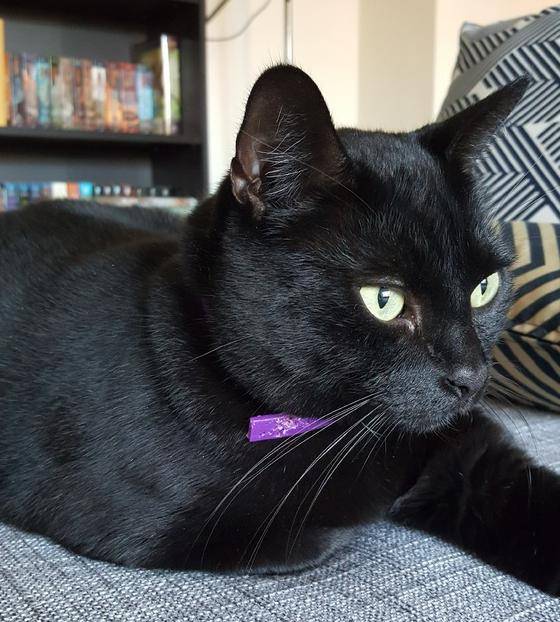 Meet Ares, Black Domestic Shorthair Cat For Adoption in Los Angeles CA
Meet Ares, an adorable pure black Mini Panther (cat) looking for a loving home and family to cherish him in Los Angeles and area. Fixed, shots, healthy and supplies included.
Ares is in good health, as you can tell from his shiny black coat. He has amazing light green eyes that stand out like emeralds against his ebony coat. Ares is a real love cat. He is so affectionate and social with people.
Ares has the cutest face. With a bit of an overbite, he sometimes looks like a "vampire cat", a trait that is sure to make you smile whenever you are in his midst.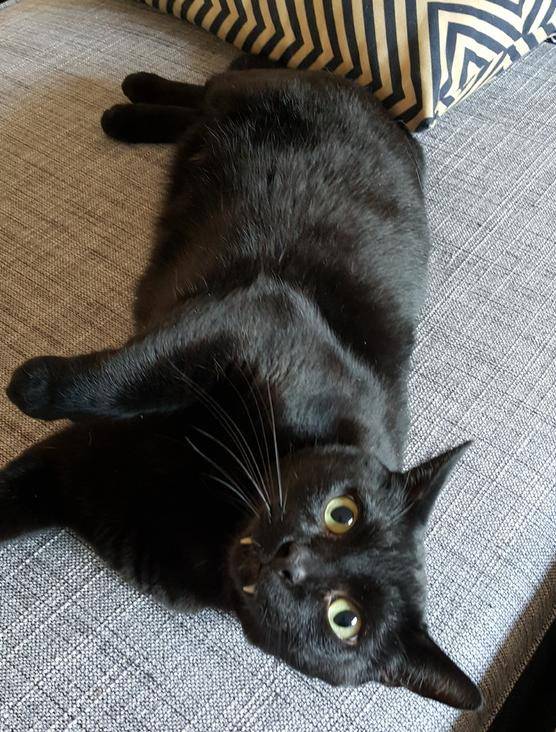 Ares adorable "Vampire Teeth" really add to his charm!
Ares, along with his best friend, Willow, a gorgeous ginger tabby cat, are being offered for adoption by their owners, who love them dearly. The couple are relocating, and will not be able to bring the cats along with them. They are dearly hoping to find a special home for both cats – either separately or together as a bonded pair.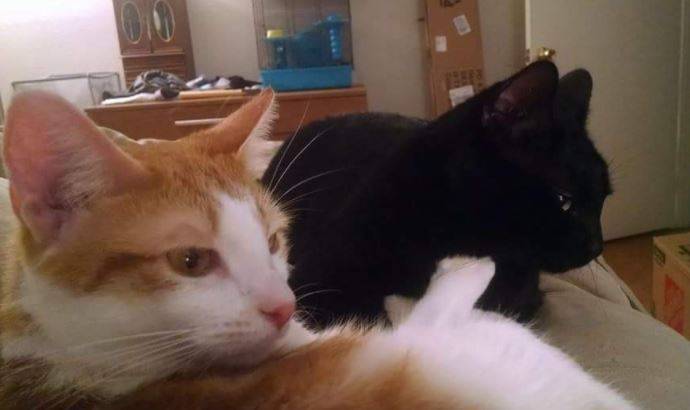 Ares can be adopted on his own, but why not double the purrs and also adopt his best friend, Willow?
Ares and Willow have so much love to offer! They would be well suited for a family with respectful children, a single cat lover, or a couple. They are "ready to love cats", and will be rehomed with all supplies and vet records, as well as the sincere friendship of their owners, who would love to keep in touch.
Ares and Willow can't wait to meet you and purr and play their way into your heart. Please offer them a loving home today!
Questions About Ares?? Text "Ares" to (888) 833-2128 or e-mail [email protected]. We look forward to hearing from you.
There is a $25 adoption/rehoming fee. Supplies and veterinary records will be included.
---
All About Ares – Sweet Black Cat For Adoption in Los Angeles CA
Name of Pet: Ares
Location: Los Angeles, CA, 90036
Type of Pet: Cat
Breed of Pet: Domestic Shorthair
Sex of Pet: Male
Age of Pet: 5
Spayed/Neutered?: Yes
Health Problems: No
Behavior Issues: No
Up To Date on Vaccinations: Unknown
Gets along with cats: Yes
Gets along with dogs: Yes
Good with Children?: Unknown
House Broken or Litter Trained?: Yes
Crate Trained?:
Accessories Included: We'll provide a month's supply of food and a bag of litter. Also, some toys. If the cats are able to go to the same home, a dome litter box can be supplied as well.
Ares's Personality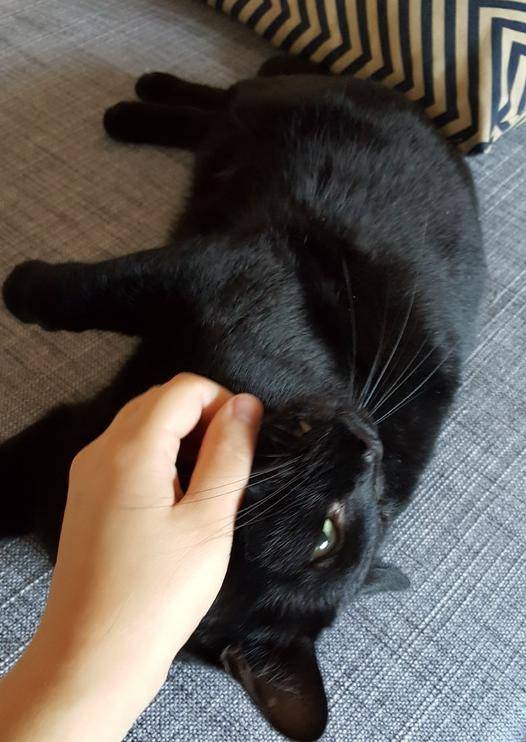 Be prepared for purrs! Ares is so affectionate and cuddly!
– He loves cuddles and kisses
– He's extremely good at using the litter box (hardly any accidents)
– He has beautiful eyes
– He has goofy vampire teeth
– He's very sweet and knows how you're feeling
Ares's Current Home Environment
My partner and I currently live in an apartment with Ares, Willow, and our dog Harper. The apartment is clean, the cats share a litter box, and they have a window to watch the street from. My partner and I are gone during the day for work, but we're usually home at night and the cats are given fresh water and food daily (although they are good with automatic feeders as well).
Ares's Current Family:
Our family currently consists of Ares and Willow (our two cats) and a Jack Russell terrier named Harper.
Ares's Favorite Toys, Foods, Activities?
Ares loves little mouse toys and things that he can chase; he also is very social and loves playing with other cats. He enjoys toys on strings as well. He eats mostly dry food, and doesn't seem too interested in human food. He likes to sit up high and observe things, or chill in places that make him feel safe (like a box).
Cute Ares Story:
Ares is good at knowing when you're feeling sad. When he senses that, he'll usually come over and try to comfort you and rub up against you.
Why is Ares Being Rehomed?
My partner and I will be relocating in the near future, and the cats aren't able to come with us when we go, so we're seeking to find them a good home before we leave.
Ares's Perfect Adoptive Home Will Be:
I would love a family that is able to give a lot of attention to Ares and possibly with other animals to love and play with. He loves having little spaces (low and high) to observe from and to nap in. He also used to have a patio to sit on where he could lounge outside in the sun, so I would love that for him, if possible.
How To Adopt Ares
If you are interested in adopting this special young black cat For Adoption in Los Angeles CA, please fill out our online meeting request here. Once received and reviewed, our staff will ask the pets owner to reach out to you and arrange a meeting to determine for certain if Ares is a good fit for you – and you are a good fit for this pet.
Questions About Ares?? Text "Ares" to (888) 833-2128 or e-mail [email protected]. We look forward to hearing from you.
Ares – Black Male Domestic Shorthair Cat For Adoption in Los Angeles CA
Ares is a Black Domestic Shorthair Cat for adoption in Los Angeles CA, near Glendale,
Long Beach,
Anaheim,
Santa Ana,
Riverside,
San Bernardino,
East Los Angeles,
Huntington Park,
Maywood,
Walnut Park,
Commerce,
Bell,
Glendale,
South Pasadena,
Monterey Park,
South Gate,
Cudahy,
West Hollywood,
Alhambra,
Bell Gardens,
Westmont,
Little Tokyo,
Old Chinatown,
Naud Junction,
New Chinatown,
Aliso Village,
Mission Junction,
Taylor Junction,
Pico Gardens,
Angelino Heights,
Brooklyn Heights,
Glendale Junction,
Butte Street Junction,
Dayton Avenue,
Boyle Heights,
Lincoln Heights,
Wyvernwood,
Ninth Street Junction, CA. Adopt this sweet Black Domestic Shorthair Cat today.