---
---
Ragdoll Cats For Adoption USA and Canada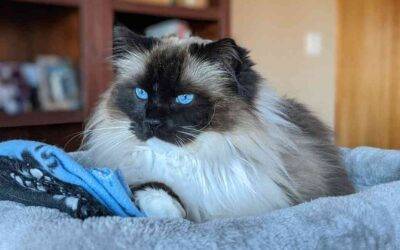 Looking for a Ragdoll Cat for adoption in Anacortes WA and area? Just 3 years years old and weighing 14.5 pounds, this lovely Ragdoll Cat has been Neutered, Microchipped, Fully vaccinated, Crate Trained, Litter Trained. Barney is best suited for a home with just one or two cat lovers who have a quiet home, follow a daily routine, and who can give Barney the love, attention, companionship and care that he thrives on.
Barney's owners are very sad to have to rehome their beloved cat. Barney differs from the majority of cats in his breed group in that he does not like dogs. His owners had no idea that this would be the case when they adopted a Miniature Dachshund puppy, and Barney has made it abundantly clear that he will not permit it. Barney has become so stressed with the addition of his dog-brother that he has had to be placed on Fluoxetine (Prozac).
Barney loves to be the center of attention – the apple of his owner's eye. He is friendly and accepting of visitors, but has never been exposed to children. His ideal new home will be a quiet one without other pets. He would make a wonderful companion for a retired or senior couple or single with lots of time for him, and who follows a daily routine.
Barney will be rehomed with a treasure trove of supplies and accessories, including litter boxes, litter mats and litter; cat tree; combs; nail trimmers; an exercise pen with sunscreen top for use on a deck; microchip and TICA registration information. All you need to add is unconditional love and a safe, happy and healthy home. Adopt Barney today!
#catsofinstagram #catstagram #ragdollcat #ragdollsofIG #ragdollcatforadoption #adoptablecatsofIG #petsforadoptionWA #catsforadoptionWA #anacortesWA #bellinghamWA #burlingtonWA #ferndaleWA #lyndenWA #marysvilleWA #mountvernonWA #northmarysvilleWA #oakharborWA #porttownsendWA #sedrowooleyWA #adoptdontshop
read more

Ragdoll Cat Rehoming Services
Are you in the difficult situation of having to rehome a Ragdoll cat or kitten? We can help! Our cat rehoming team are experts in finding good homes for pre-loved cats and kittens.
We can find your Ragdoll cat a very loving forever home safely and effectively through our proven pet rehoming process. Feel free to contact our cat rehoming team with any questions.
Ready to rehome your Ragdoll cat? Request cat rehoming services here!
Ragdoll Cats For Adoption – Ragdoll Rehoming Services – About Ragdoll Cats
---
All About Ragdoll Cats and Kittens
Source: Cat Breeds A to Z
---
Additional Ragdoll Cat Breed Resources
---
Adopt or rehome a Ragdoll cat or kitten. Pet Rehoming Network finds good homes for pre-loved cats, and great cats for loving homes. Contact our pet rehoming team for more information.
Ragdoll Cats For Adoption – Ragdoll Rehoming Services – About Ragdoll Cats