ADOPTED – Buttercup – Russian Blue Mix Cat San Jose CA
Buttercup has found her forever home. If you would like to adopt a Russian Blue cat in San Jose, visit our Russian Blue Cat Rehoming page to view pets we currently have available. You can also get on our waiting list, and we will contact you as soon as a Russian Blue cat or kitten is placed for rehoming near you.
Need to rehome a Russian Blue cat? Contact our cat rehoming team today!
Read on to see how our San Jose Cat Rehoming  team presented Buttercup to attract her forever home.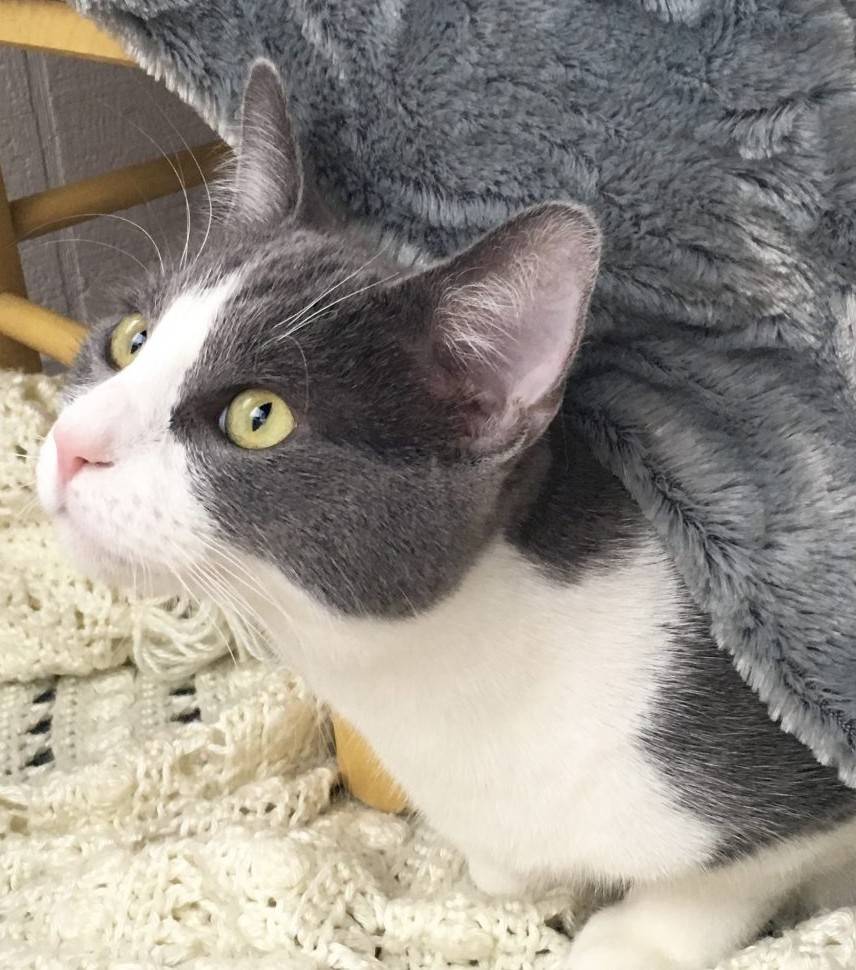 Meet Buttercup – San Jose's Cuddliest Young Cat
If you love to snuggle, Buttercup, a beautiful Russian Blue mix cat, is your purrfect match. At just 18 months of age, Buttercup is still a kitten at heart. She is a real purring machine and loves to play with toys.
Buttercup is looking for a new home. Despite her adorable, snuggle bunny personality, this little cat is not happy in her current environment. There is too much going on, too many people, and other pets, all of which combine to make Buttercup feel insecure in her home.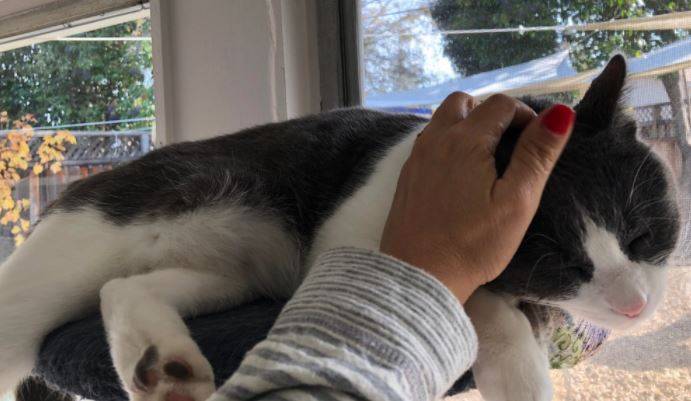 She would be the ideal companion for a single cat lover (or a couple) who live in a quiet home and have a strong routine. It is rare to find a cat as sweet and friendly as Buttercup. She is so devoted to her people.
Some cats hiss, growl and scratch when they feel threatened or nervous, but not Buttercup. Instead, she feels the need to mark her territory. Unfortunately, the territory she has chosen to mark is the family's sofa.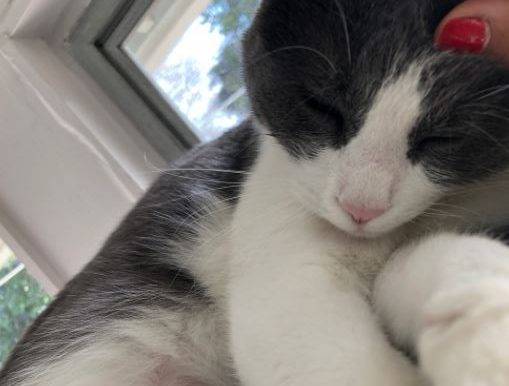 The family has tried different methods recommended by feline behaviorists and their vet to try and correct this behavior and keep Buttercup in their home. Unfortunately, it is clear that she needs to be an only pet in a quiet home with a strong routine.
Her owners want the best for Buttercup, and constantly feeling stressed is not good for her health, while her accidents are not good for the rest of the family. They are dearly hoping to find her the right situation with an owner who will be patient and kind – helping her to learn that her environment is safe and predictable.
---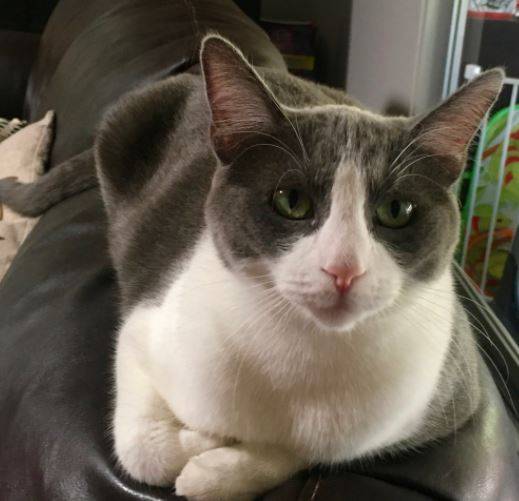 All About Buttercup – Russian Blue Mix Cat Adopted in San Jose CA
Name of Pet: Buttercup
Location: San Jose, CA, 95118
Type of Pet: Cat
Breed of Pet: Russian Blue Mix
Sex of Pet: Female
Age of Pet: 1.5 years
Spayed/Neutered?: Yes
Health Problems: No
Behavior Issues: Yes In the last 3-4 months, Buttercup has been occasionally urinating on the couch.
Up To Date on Vaccinations: Yes
Gets along with cats: No
Gets along with dogs: No
Good with Children?: No
House Broken or Litter Trained?: Yes
Accessories Included: Definitely a carrier, possibly a litter box and some toys, depending on the needs of the adoptive family.
Buttercup's Personality
She is very sweet.
She loves to snuggle.
She purrs really loudly.
She's playful when there aren't too many other creatures around.
She's very cute.
Buttercup's Current Home Environment
We have another cat (Buttercup's brother), a large dog and two elementary aged school children. We don't have very predictable schedules between after school activities and school breaks, and there is often commotion in our house, whether that comes from other pets or having friends over.
Buttercup's Current Family:
We have two working parents (though I work from home) and two kids, ages 5 and 9. Our kids are active in sports and other after school activities. While I would not say we are a loud family, just the fact of having two kids with friends and other pets means there's a certain degree of noise and commotion in our house a lot of the time.
Buttercup's Favorite Toys, Foods, Activities?
She loves things that dangle- feathers on strings, strings hanging off of things, etc. But probably her favorite activity is curling up next to my daughter while she reads.
Cute Buttercup Story:
Heartwarming: My daughter was sick a couple weeks ago and Buttercup barely left her side. She was her little companion, always there purring.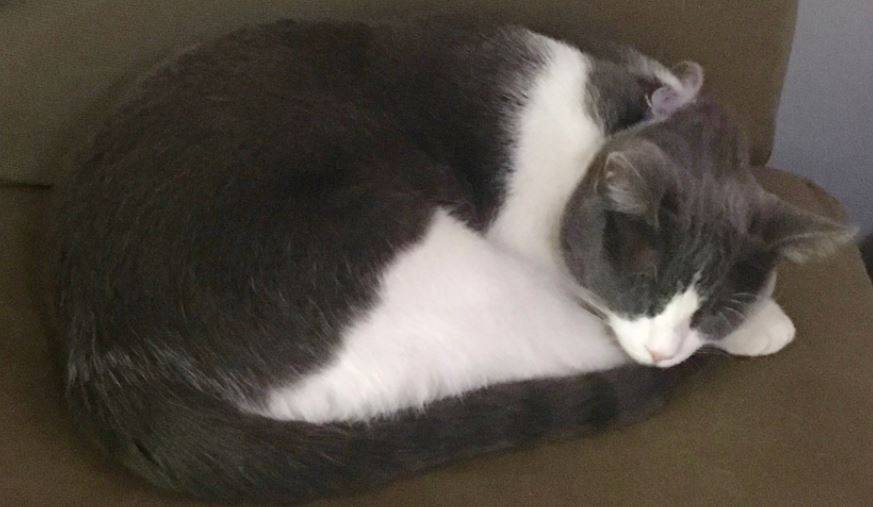 Funny: We have a little (3′) fake Christmas tree. She started playing with the jingle bell garland on it and knocked it over a few times.
Why is Buttercup Being Rehomed?
We've tried everything to get her to not urinate on the couch. We've bought a new litter box, added litter boxes in more locations, moved the litter box, tried "cat attract" litter (that showed the most promise), and tried to create "sanctuary space" for her in our house. It hasn't worked. We've worked closely with our vet and spoken with other experts, and everyone's best guess is that this cat needs to be in a home without other pets and probably not children too. That part is trickier, she and my daughter adore each other. But my daughter is pretty introverted, and when we have her friends over Buttercup gets pretty stressed. We don't think there's any way we can reasonably modify our home more to create an environment in which she's happy.
Buttercup's Perfect Adoptive Home Will Be:
We think Buttercup would do best with a family of one or two adults with predictable schedules where she could be the only pet.
Additional Comments:
It's been a hard decision to try to find another home for Buttercup. She is a sweet little creature. We just don't believe there's a way for us to make her happy with us and know she can find a family where she will be someone's perfect companion.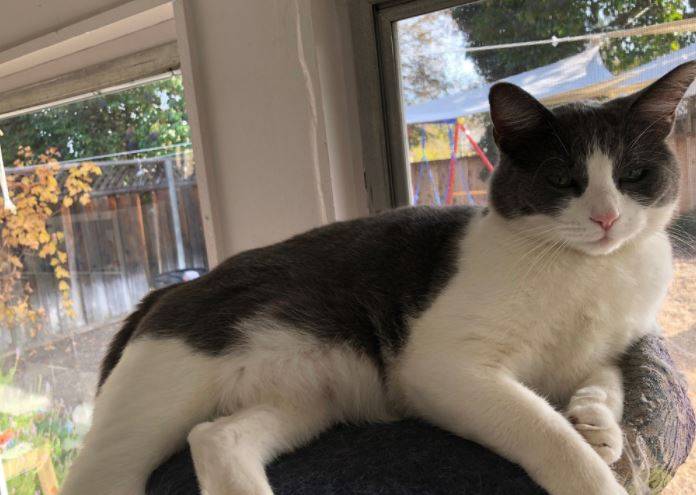 Buttercup – Russian Blue Mix Cat Adopted in San Jose CA
Buttercup is a grey & white shorthair Russian Blue Mix Cat Adopted in San Jose CA, near the following towns and cities in northern California:
Santa Clara, CA
Campbell, CA
East Foothills, CA
Milpitas, CA
Cupertino, CA
Sunnyvale, CA
Saratoga, CA
Los Gatos, CA
Mountain View, CA
Los Altos, CA
Los Altos Hills, CA
Fremont, CA
Palo Alto, CA
Newark, CA
Stanford, CA
College Park, CA
Chinatown, CA
Heinlenville, CA
Garden City Trailer Court, CA
Trailer Tel Mobile Home Park, CA
Willow Glen, CA
Riverbend Family Mobile Home Park, CA
Parkmoor, CA
Golden Wheeler Mobile Home Park, CA
Fruitdale, CA
Wayne, CA
Santa Clara, CA
Winchester Ranch Mobile Home Park, CA
Berryessa, CA
Santa Clara Trailer Village, CA
Casa de Lago Mobile Home Estates, CA
Alum Rock, CA