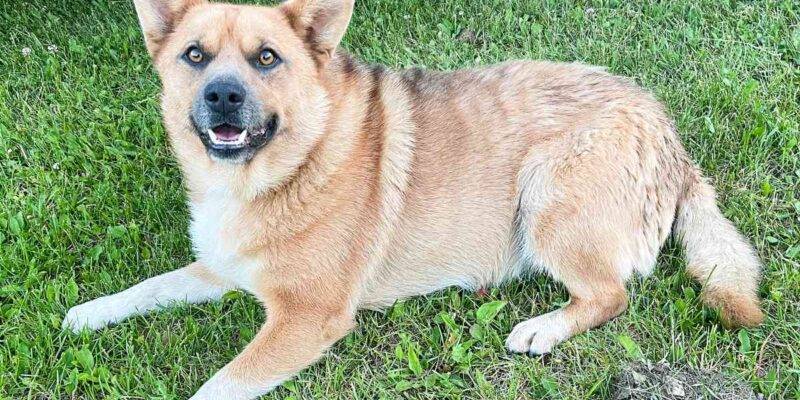 Pomeranian Red Heeler Mix Dog For Adoption Near Edmonton in Duffield AB – Adopt Sloane
Meet Sloane – Red Heeler/Pomeranian Mix Dog For Adoption in Duffield Alberta
Looking for an Australian Cattle Dog (Red Heeler) mix dog for adoption in Edmonton and area? Meet Sloane, a cute and scrappy little dog with a big smile and a happy disposition. He is under 2 years of age and weighs about 16kg. Sloane is in good health. He is fixed, fully vaccinated, micro-chipped, house-broken, crate trained and obedience trained. He is a "ready to love" dog – just adopt and enjoy.
Sloane is good with children and other dogs. He loves to play in the back yard, and keep-away is among his favorite games. Unfortunately Sloane has developed a taste for Chicken (the walking around kind) and has dispatched a couple of chickens on his owners farm. He also loves to chase cats, and although he wouldn't hurt them, he will torment them with relentless chasing.
Sloane needs a loving home in the city, with a family which does not have any cats. He needs owners who have a fenced in back yard, and lots of time to spend with Sloane. Some great kids to play with and maybe a dog friend or two will be the icing on the cake.
Sloane will be rehomed with some accessories and veterinary records. If you have been looking for a handsome, funny, playful and affectionate little dog, Sloane can't wait to meet you and show you how much fun owning a dog can be. Adopt Sloane today.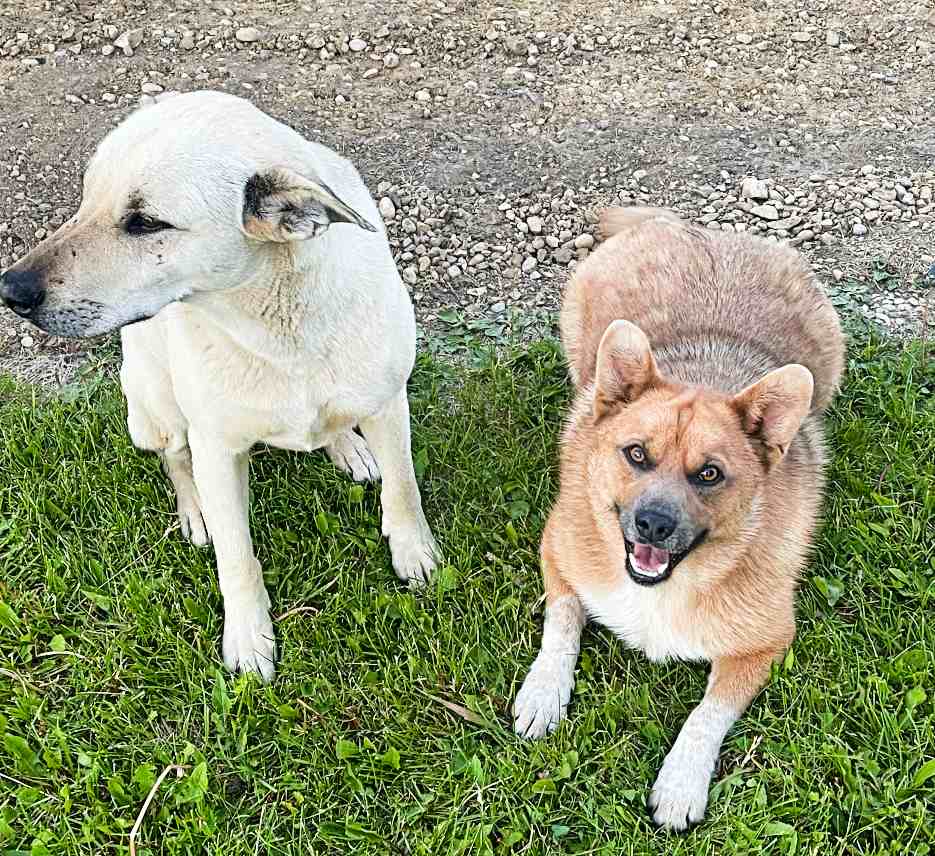 How To Adopt Sloane
If you are interested in adopting this special Red Heeler/Pomeranian in Edmonton (Duffield) Alberta, please fill out our online meeting request below. Once received and reviewed, our staff will ask the pets owner to reach out to you and arrange a meeting.
There is a $150 adoption/rehoming fee. Some supplies and veterinary records will be included.
Questions about Sloane? Contact our Edmonton dog rehoming team today. Text "Sloane" to (888) 833-2128 or email [email protected]. We look forward to hearing from you.
All About Sloane – Red Heeler/Pomeranian Dog For Adoption in Duffield Alberta
♥ Name of Pet: Sloane
♥ Location: Duffield, Alberta, T0E0N0
♥ Type of Pet: Dog
♥ Breed of Pet: Red Heeler/Pomeranian
♥ Color / Coat Type: Red colour with sparkling of white on front legs. Full, fluffy coat on account of Pomeranian-side.
♥ Age of Pet: Coming up on 2 years this October 23.
♥ Size of Pet: Roughly 16 kg.
♥ Health Problems: No.
♥ Behavior Issues: Yes.
He has a strong prey drive and can be quite stubborn when listening.
♥ Gets along with: Babies, Toddlers, Small Children, Older Children, Dogs
♥ Pet is: Neutered, Microchipped, Fully vaccinated, House Broken, Obedience Trained
♥ Food: Other
Pedigree currently as our dog fund has gotten too low to afford anything else. Was on Acana a few months ago.
Sloane's Personality
Sloane is always happy and excited when he sees us, loves chasing a ball, but also likes to play keep-away just as much. Adores children. He does have a bit of stranger danger, but once introduced to people and dogs and they become familiar, he loves to play and wrestle.
As mentioned before, he has a strong prey drive; he will chase any small animal which makes a great mouser. However, although he hasn't harmed my outdoor cats, he does chase them relentlessly when given the chance and is overly excited or bored.
I do have current photos on Sloane, but the files are too big to attach to this request form.
Why is Sloane Being Rehomed?
I have been trying to train the prey drive to a minimum for the last year and a half since I got him, alongside other obedience training. Unfortunately, he has gotten into my chicken/guinea fowl coop a number of times now and has taken out my livestock every time. My family relies on the chickens and guineas for food, and replacing our livestock has eaten into our dogs emergency medical slush fund. I have thought of rehoming him a number of times now, and have decided it's now time to find him a more suitable forever home.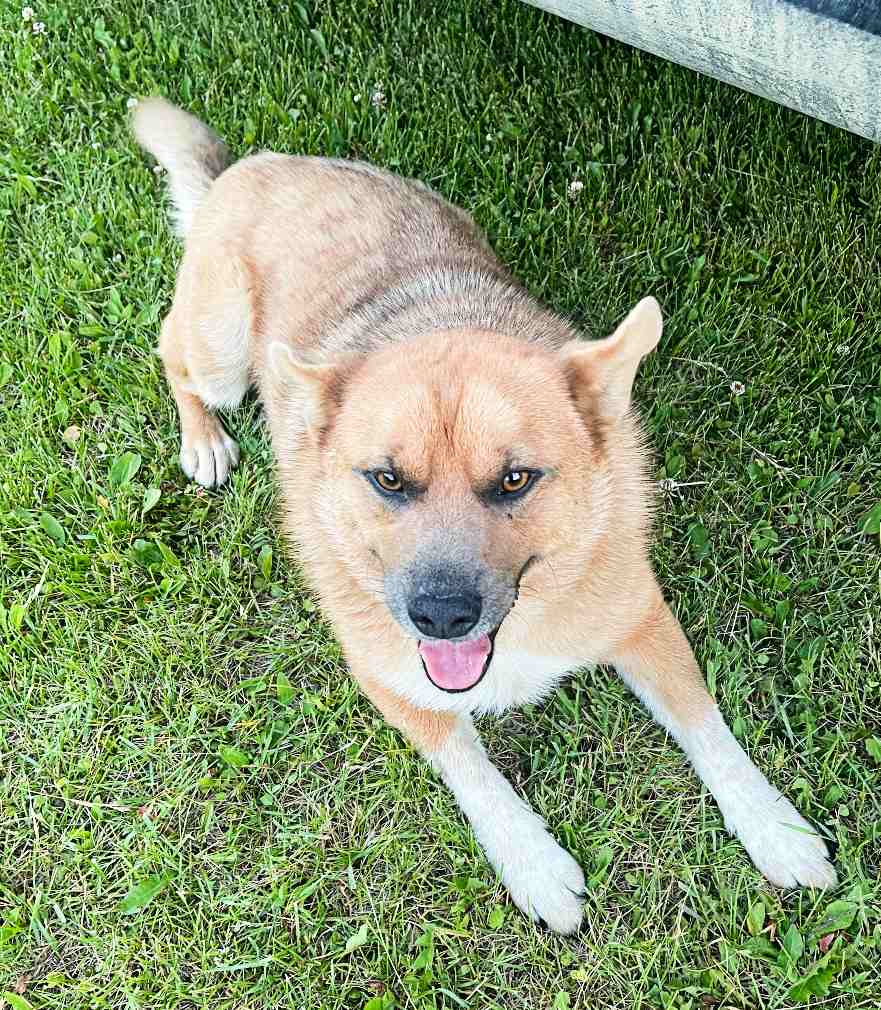 Sloane – Red Heeler/Pomeranian Dog For Adoption in Duffield Alberta
Sloane is a Red Heeler/Pomeranian Dog for rehoming in Duffield, Alberta. He is located near the following towns and cities in Alberta:
Edmonton AB,
Saint Albert AB,
Sherwood Park AB,
Fort Saskatchewan AB,
Devon AB,
Spruce Grove AB,
Morinville AB,
Leduc AB,
Bon Accord AB,
Stony Plain AB,
Calmar AB,
Millet AB,
Lamont AB,
Tofield AB,
Wetaskiwin AB,
Westlock AB,
Adopt this Red Heeler/Pomeranian Dog in Edmonton Alberta today.